Translated by: Qiao Xuechao
Edited by: Garrick Jones
Time: 2017/4/21
On the 19 of April, the secretary general of Asia-Pacific Space Cooperation Organization, Li Xinjun and his delegation visited HIT and had a formal discussion with staff in this area. The leaders of the Department of Promoting Civil-Military Integration of Ministry of Industry and Information Technology of the People's Republic of China and the president of HIT, Zhou Yu attended this symposium.
Zhou Yu expressed that in the long history of this university, HIT always kept up with the Chinese aerospace industry on the same track, and follows the spirit of the Chinese aerospace industry, keeping collaborative innovation together with China aerospace. In this way, HIT's advantage of disciplines, technologies and talents has taken shape. He hoped that both parties seize this opportunity to positively promote shared information and win-win cooperation, and establish a long-term, stable and sustainable relationship.
Li Xinjun showed that we should seek the opportunity of cooperation in degree programs and space technology R&D areas, to further deepen our cooperation.
The vice president of HIT, Ren Nanqi presided at the symposium.
On the symposium, the director of HIT International Cooperation Department introduced history, school-running characteristics and research achievements and other relevant issues of HIT. The Minister of External Relations and Legal Affairs, Nassir•Mohamoud introduced the overall layout, operation mechanism and external cooperation situation of Asia-Pacific Space Cooperation Organization. The two parties signed a memorandum of understanding of 2017 Space Laws and Policies Forum.
The directors from HIT Graduate School, Science and Industry School, International Cooperation Department, Humanities and Social Sciences School, and Law School attended this symposium.
The delegation visited HIT Museum, laboratories and conducted cooperation work with the International Educational School, Humanities, Social Sciences School and Law School.
The Asia-Pacific Space Cooperation Organization is an inter-governmental organization within the UN member states of the Asia-Pacific region. The purpose of this organization is to boost the spatial ability of member states and facilitate the peaceful utilization of outer space, through the promotion of multilateral cooperation in space science, technology and its application, as well as the promotion in mutual assistance among member states in the business of technology research and development, application and talents training.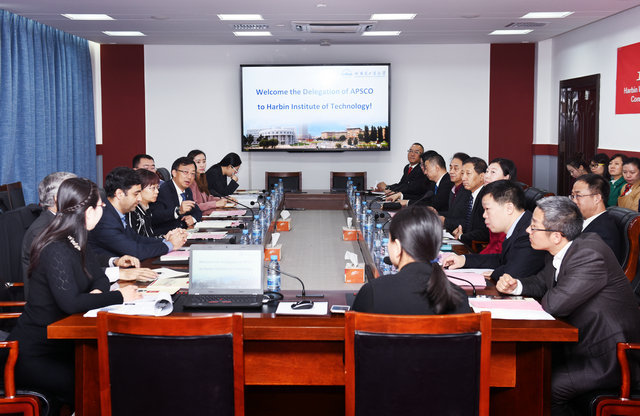 Symposium Site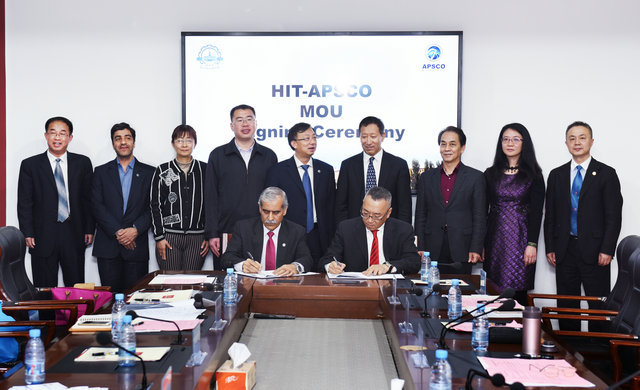 Signing of Memorandum of Understanding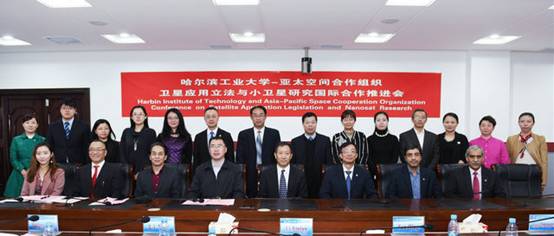 Group Photo