Reported by: Wen Ting
Translated by: Zhang Guangju
Edited by: Garrick Jones
Date: May 2, 2017
HIT reports, that on April 27 and April 28, president Zhou Yu went to Shenzhen campus for a a research visit. During this visit, Zhou Yu attended preparatory work report committees of the International Research Institute of Globalization and Economic and Social Development, and the Institute of Life Science and Health. He visited the undergraduate dormitories and campus expansion project site, and visited classes of undergraduates of grade 2016.
Zhou Yu said that Harbin Institute of Technology always take a characteristic running school road. On the premises of maintaining the advantages of engineering, HIT continues to strengthen the building of discipline and emerging frontier disciplines, and actively develop the direction of disciplines in economy, management, literature and law. He stressed that HIT Shenzhen campus---an important part of the "Three campuses" of Harbin Institute of Technology, should make full use of the advantages of Shenzhen's economic and social development, increase the innovation of institutional mechanisms, do a good job in the development of disciplines, take new forms and innovate and develop new models. It should be built into a high-level campus with positive characteristics so that the campus can become a crucial window that improves the international image of HIT. In response to the construction of the International Joint Research Institute for Globalization and Economic and Social Development, Zhou Yu suggested HIT Shenzhen campus carefully plan their construction and development roadmap, and actively promote the work and coordinate with the actual situation. While striving for strong support from the Shenzhen government, the campus should actively promote all kinds of work, restructure in accordance with its actual situation, and especially solve the problem of teaching transition before the completion of the office area construction. In terms of the preparatory work of the Institute of Life Science and Health, Zhou Yu suggested that disease prevention and health should be regarded as starting points, which can help accelerate the top-level design and preparatory planning of the institute, and actively explore multi-party cooperation and build a win-win innovation development road.
After listening to the courses of undergraduate students of grade 2016, Zhou Yu encouraged students to carry forward the spirit of the HIT motto "strict, stringent and professional", and called on students to form the habit of taking notes, suggested they should become skilled and industrious, read more and travel more. In terms of the campus expansion project, Zhou Yu emphasized that the campus should make prominent the historical traditions and teaching characteristics in the building of the new main buildings while focusing on functionality of the buildings. The campus should base on international standards in the construction of a characteristic campus, which can be compared with other world-class universities.
The Leaders of the Shenzhen Campus accompanied him in the research visit.
Research on expansion construction project.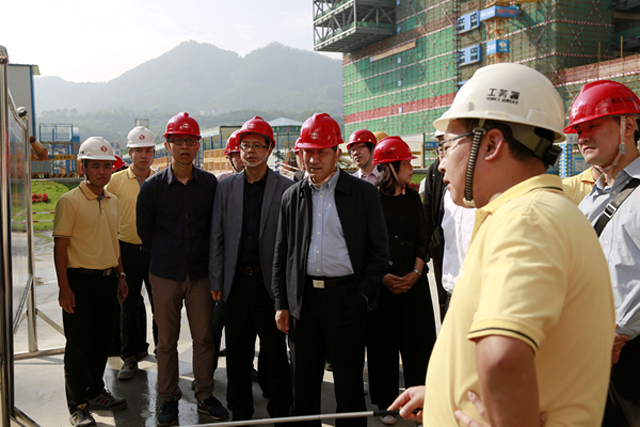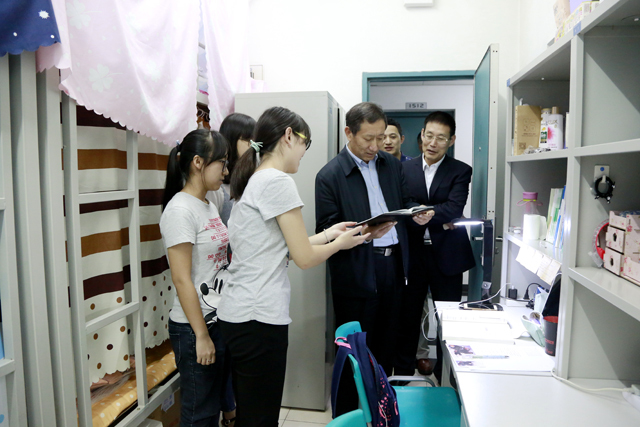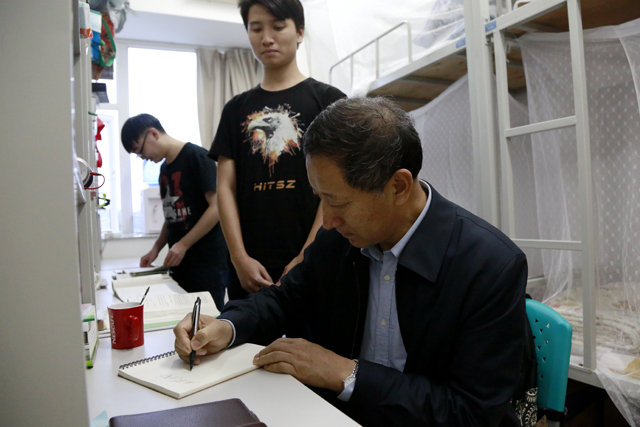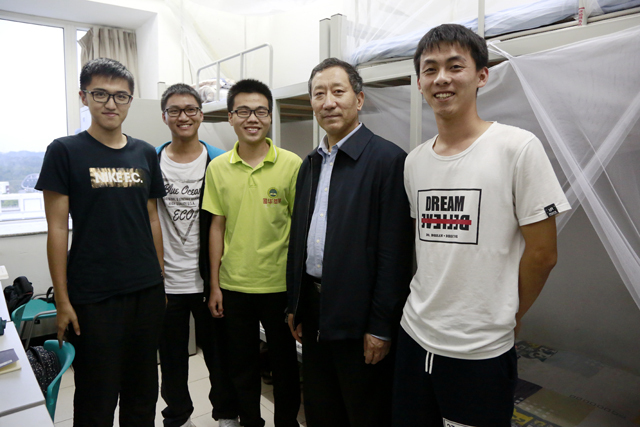 President Zhou Yu visited students in their dormitories.