Reported by: WEN Zhang
Photographed by: WEN Zhang
Translated by: REN Shaorui
Edited by: Garrick Jones
Date: June 7, 2017
From May 31st to June 3rd, the Governor LU Hao led a delegation to visit Russia and attended related activities. With the invitation of the Governor, President ZHOU Yu had a visit to St Petersburg University where he reached an agreement with President Koropachev on such issues as cooperative education, the establishment of a joint work group, setting up a representative office of St Petersburg University in HIT and more. XU Mei, the Director of the Provincial Education Department, also visited the University with him.
Koropachev extended a warm welcome to the delegation and spoke highly of the fruitful results achieved by the cooperation between St Petersburg University, Heilongjiang Province, and HIT in such fields as talent cultivation, scientific research and academic exchanges for experts. He hopes that the three parties will actively promote pragmatic cooperation to achieve win-win development through joint efforts.
ZHOU reviewed the history and achievements of cooperation and communications between St Petersburg University and HIT in recent years. He pointed out that there were unique advantages for the cooperative education between the two universities because of the history of friendly exchanges between China and Russia, Harbin's distinctive fusion with Russian culture, and from the historical development of HIT, also hoping that the two sides will step up their cooperative education levels and make new progress in talent cultivation and scientific research with the strong support of the provincial government.
During the visit, ZHOU and his entourage visited the resource center of surface physics, functional materials as well as optics and laser in the science park of St Petersburg University. The related personnel from HIT School of Humanities, Social Sciences and Laws and HIT International Cooperation Department also visited the science park together.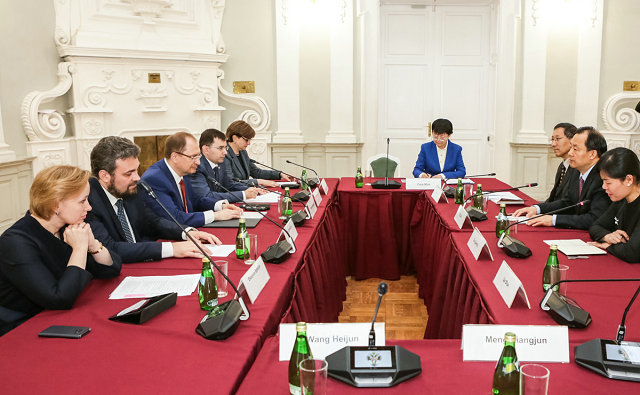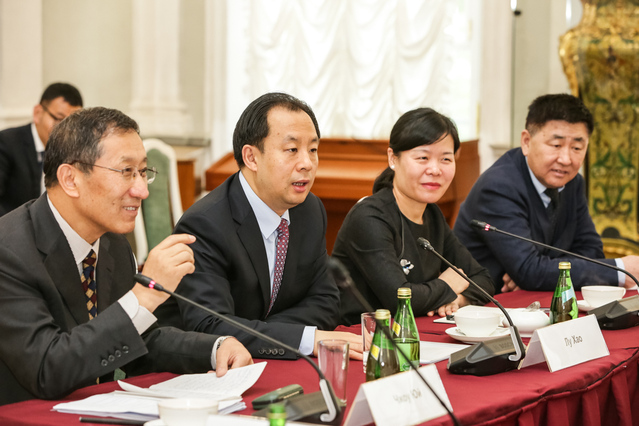 Having a meeting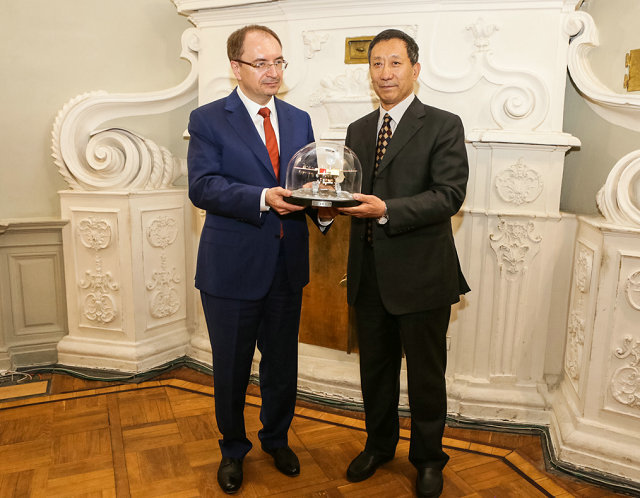 ZHOU Yu giving a present to Koropachev
Koropachev giving an introduction of St Petersburg University