Reported by: Shang Yankai
Photographed by: Lan Rui
Translated by: Sun Jianyao
Edited by: Garrick Jones
Date: 2017-07-17
On the morning of July 14, HIT holds a grand ceremony at the Room 301, Activity Center to award degrees for 323 doctoral students. Mr. Zhou Yu, chairman of Academic Degrees Committee and president of HIT, gives a speech to these PhD graduates and awards the doctoral degree to them together with tutor representatives from every college.
On behalf of HIT, Mr. Zhou Yu expresses his warm congratulations to these PhD graduates who have persevered in their studies in spite of hardships and have won the academic title of a PhD degree. Mr. Zhou Yu points out that since the 18th National Congress of the Communist Party of China (CPC), under the leadership of the Party Central Committee with Comrade Xi Jinping as the core, China's various undertakings have flourished; meanwhile, the implementations of a number of innovation-driven development strategies, such as space power, manufacturing power, cyberpower, revitalization of the northeast industrial base, have provided great opportunities for the PhD graduates who are going to take up working posts. Being one of HIT PhD graduates is a great honor. However, all sectors of society not only think highly of you, but also make higher demands on you. So you will take on heavier responsibilities.
"You have got the PhD degree, won the honor and respect; but as for what kind of career you will create and what success you will achieve, it depends on what kind of person you choose to be." On the occasion when a group of doctoral graduates are about to sail from their alma mater and pursue their ideals with boiling blood and encyclopedic minds, Mr. Zhou Yu puts forward four exhortations:
First, be a leader with high aspirations and courage. "If you want the world to be ruled fairly nowadays, who but myself can do it ?" It is the responsibility that not only ancient intellectuals have taken, but also contemporary social elites should follow. For a long time, HITers have always been responsible for the mission and the responsibility of building a strong and prosperous nation and taking the initiative and responsibility to work and study hard in all walks of life. In this way, HIT has made many achievements. Two months ago, General Secretary Xi Jinping emphasized that "the most distinctive theme of contemporary China is to fulfill 'Two Century Goals' and achieve the great rejuvenation of the Chinese nation,when inspected China University of Political Science and Law two months ago. PhD graduates are supposed to firmly grasp the most distinctive theme of the times, keep them in mind and put into action. They are supposed to serve people worldwide as their duty and follow the examples of Jiao Yulu, Ma Zuguang and Yu Dagang. They are supposed to integrate their own aspirations to country's progress and national rejuvenation to be the people with responsibility and show the required manner and quality of HITers.
Second, be the pioneer striving for excellence and forging ahead with determination. Scientific and technological innovation is the strategic support needed for improving social productivity and comprehensive national strength. China has always put scientific and technological innovation at the core position of overall national development. Only in this way, it can be one of the innovative countries and gradually make progress to become a leading innovation-oriented country. Only by always adhering to meet the major national demands at the cutting edge of international science and technology, and cultivating innovative talents by closely following the disciplinary development, can HIT stay at the forefront of university innovations in China and continue to make great achievements in innovation, such as the lilac micro-satellite team which successfully launched their second small satellite in 2017, HIT Special Environment Composite Technology Innovation Team which won the "national innovation leading medal" and 6 staff who have been selected to promote the plan of the Ministry of Science and Technology. Only when PhD graduates persist in making innovations while pursuing a doctoral degree, can they create a lot of innovative products, publish high-level papers and obtain patent licenses. Let's actively respond to the call of "struggle for building the world's science and technology power" issued by the Party Central Committee with Comrade Xi Jinping as the core. In the future, let's constantly enhance the sense of innovation and improve innovation ability. Let's be diligent in thinking, be good at summing up, dare to ask questions and be brave enough to challenge. Let's be dare to be the first and really display the value and level of HIT PhD graduates.
Third, be people with broad minds and visions, who have their motherland in mind and are concerned about human beings, as well as with the knowledge of the overall situation. "Who has no long-term consideration finds it hard to organize temporarily; those who don't study for overall situation is hardly able to manage one aspect." Mind and vision highlights a person's self-cultivation and moral accomplishment as well as determines the height of their career. "Two Century Goals" and "Chinese Dream of Great Rejuvenation" are the overall situation of the Party and nation as well as the solemn commitment made by the Party Central Committee with Comrade Xi Jinping as the core. While the goal of building a century-strong university with "Chinese characteristics, world first-class and HIT standard" is also the overall situation of HIT as well as the honorable vow made by HIT staff and students——they will never let the motherland down and live up to the glory of the era. Lofty moral character, broad mind and wide vision are the overall situation of the life of HIT PhD graduates as well as lays an important foundation for them to cultivate their moral character, body and mind. Let's have broad minds and forward-looking vision, so as to adhere to lifelong learning and advance with the times. Let's sympathize with the weak, care for others and get happiness and joy from helping other people.
Fourth, be a HITer who is concerned about the development and construction of our alma mater forever. While pursuing doctoral degree, you have not only completed your own studies and got the degree through hard work but also made outstanding contributions to HIT's scientific research work and build it into the first-class university in the world. You are about to complete your studies and change from student to alumni. In 2015, several outstanding alumni set up the "HIT Light of Spring Innovation Achievement Reward Fund" to inspire HIT students to promote the glorious tradition and continue to make innovations. We hope that you can follow the example of HITs excellent seniors and our outstanding alumni who not only make contributions to our nation and people as well as win glory for the alma mater, but also stay true to the mission and care for the alma mater. We hope that you can keep in mind the spirit of HIT and practice the school motto—— "Being strict in qualification; making every endeavor in study". We hope that you can often be concerned about and actively offer advice and suggestions for the development and construction of your alma mater and share weal and woe with her.
Mrs. Ding Xue-mei, vice chairman of Academic Degrees Committee and vice president of HIT, presides over the degree awarding ceremony and reads the relevant decision. Mr. Sun Fei from HIT School of Energy Science and Engineering, Prof. Shan Jinjun, Lifetime Professor of the University of Canada, and Prof. Ma Jun, Vice Dean of HIT School of Environment, give a speech as a representative of the graduates, alumni representatives and doctoral tutors respectively.
Relevant personnel in charge of HIT Graduate School, doctoral tutors as well as friends and relatives of PhD graduates attend the ceremony.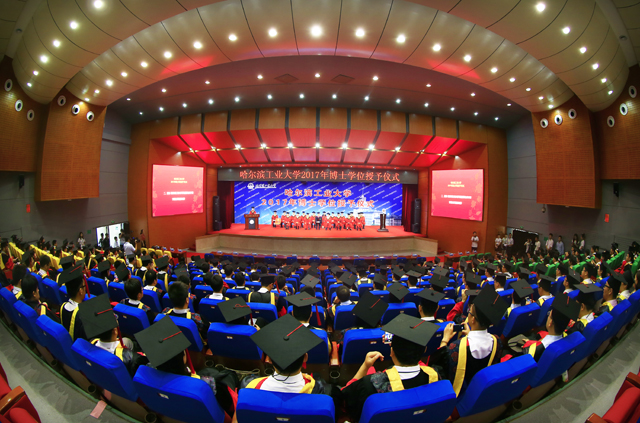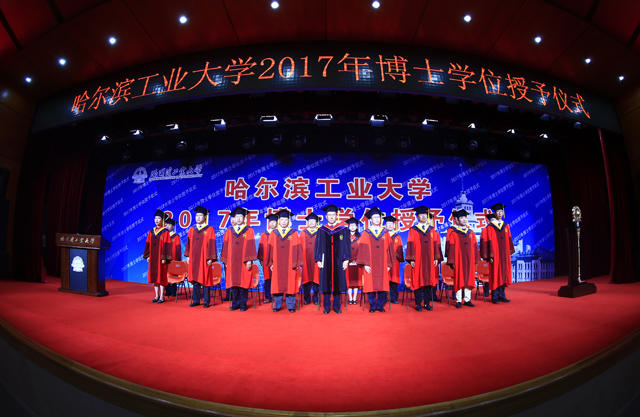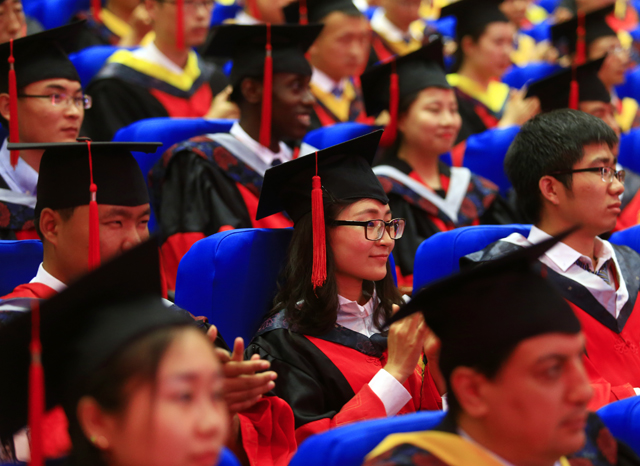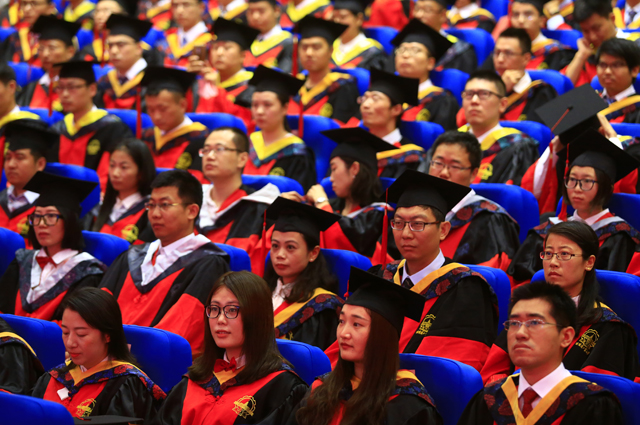 The ceremony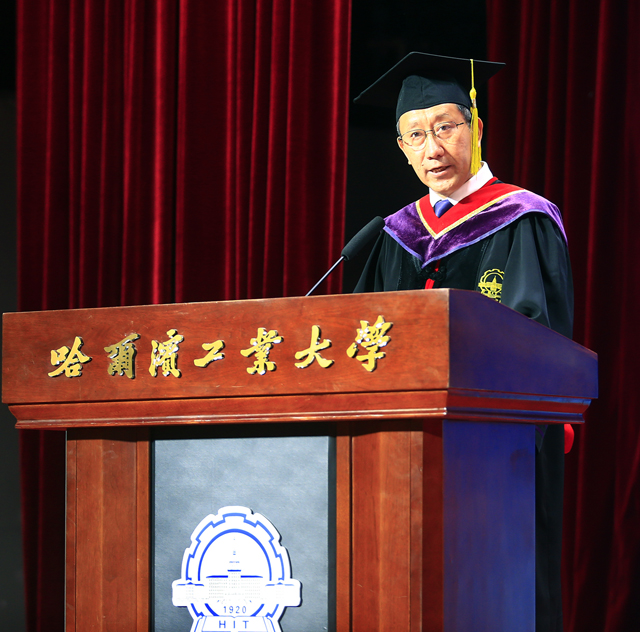 Zhou Yu, President of HIT, gives a speech to graduates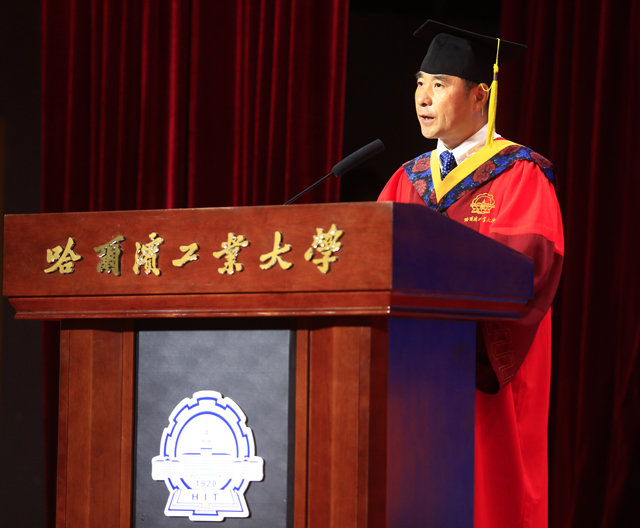 Prof. Ma Jun, representative of doctoral tutors, gives a speech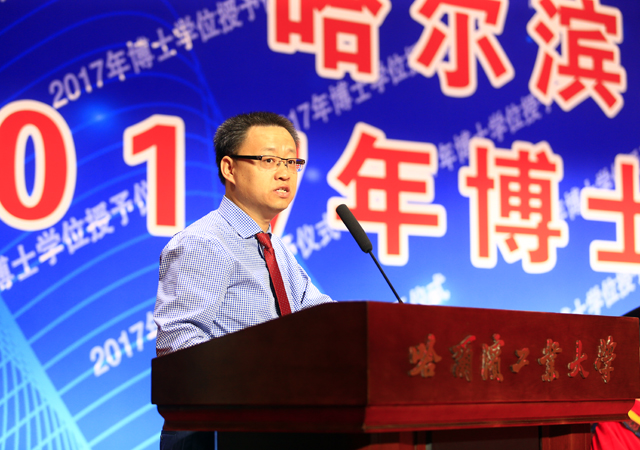 Prof. Shan Jinjun, representative of alumni, gives a speech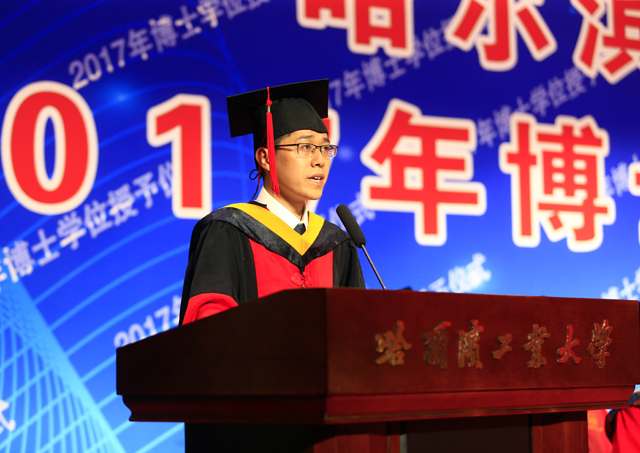 Sun Fei, representative of the graduates gives a speech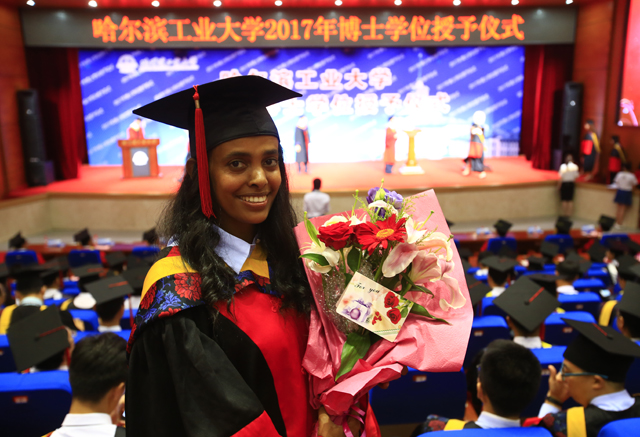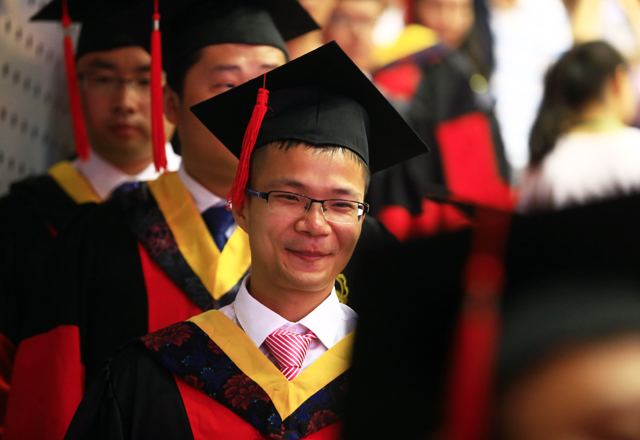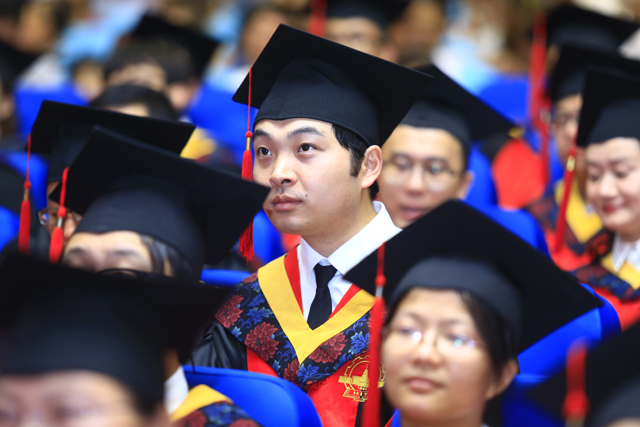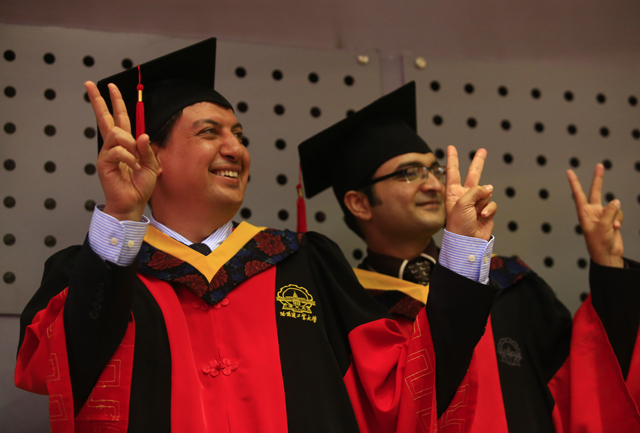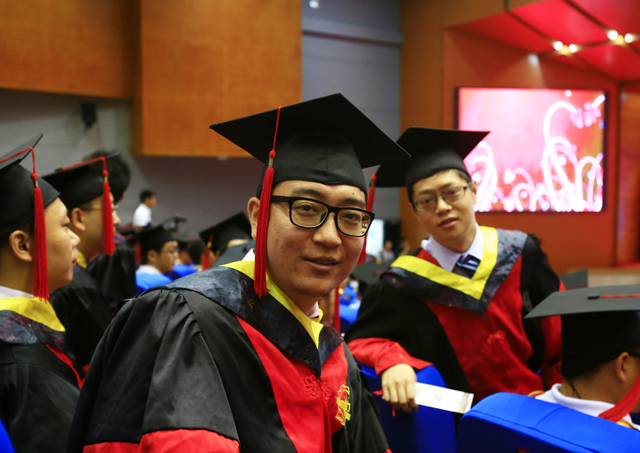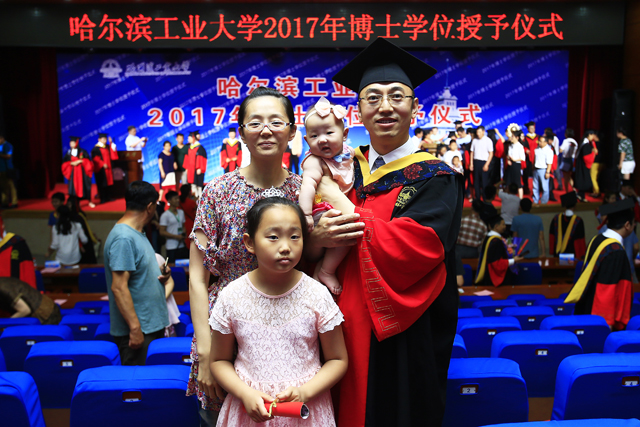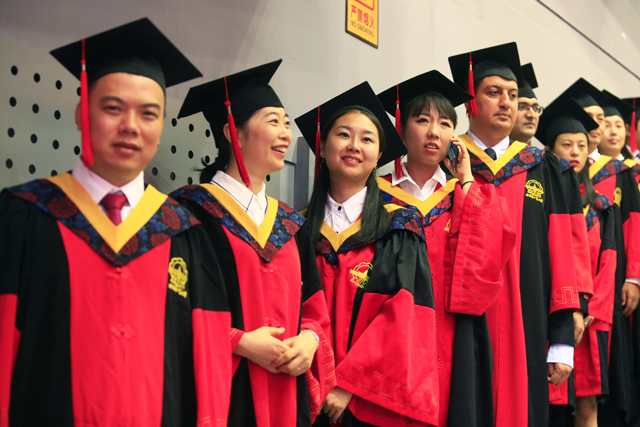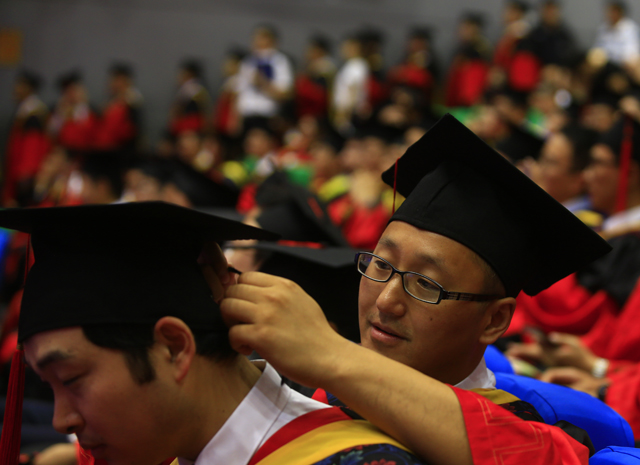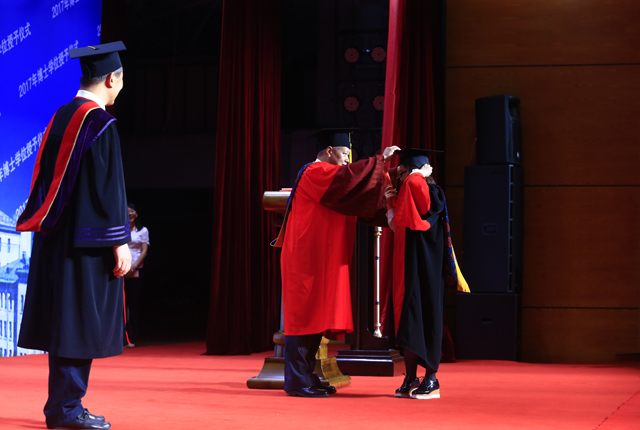 Splendid moment of graduation