Reported by: Shao Wei, San Men
Edited Translated by: Sun Jianyao
Edited by: D. Parker
Date: 2017-12-25
On December 21st, 2017 the "Impression of HIT——HIT-ASEAN High School Principals Forum" hosted by the College of International Education, was held at HIT. Dr. IM Koch, Secretary of Cambodia's State Ministry for Education, Youth and Sports, and Mr. Ren Banqi, Vice President of HIT, attended the forum and delivered the welcoming speeches.
Principals from 17 key high schools in 6 ASEAN countries participated in the forum. With the theme "Integrating into 'the Belt and Road' Construction and Promoting the Cultivation of International Talents", the forum's goal was to further promote and implement the "Plan for Studying Abroad at HIT" in line with the national "Belt and Road Initiative". In addition it seeks to enhance the recruitment and enrollment of ASEAN students in China, and increase the number of international students from ASEAN countries attending HIT. Delegates participated in  in-depth exchanges on education systems and the training of talents in the various countries and their schools.
While at HIT, delegates visited the HIT Museum and enjoyed the "World Hand-in-hand Chinese and International Students Gala".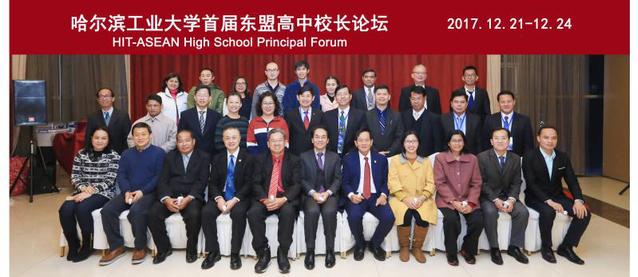 Group photo