Reported by: GAO Changyong
Photographed by: LIU Peixiang
Translated by: REN Shaorui
Edited by: D. Parker
Date: January 2, 2018
Recently, two experts shared reports with teachers and students at the Scientist's Forum. The first was Fukuda Toshio. Fukuda Toshio is a foreign academician at the Chinese Academy of Sciences, an academician of the Japanese Academy of Engineering, a full-time expert from Beijing Institute of Technology's "Foreign Experts of Thousands of People Plan", and Director of the Beijing Intelligent Robot and System High Precision Innovation Center Academic Steering Committee. The second was Nii Kenzo. Nii Kenzo is also a full-time expert from Beijing Institute of Technology's "Foreign Experts of Thousands of People Plan." He is a fellow at the Institute of Electrical and Electronics Engineers, and President of the Japanese Society of Construction Robotics. Fukuda Toshio's report was titled "The Development and Application of Micro-nano Robot Technology." Nii Kenzo's was "The Progress of Micro-robot Research in Biological Field". HIT Vice President, GUO Bin, met with the two professors and presented them with appointment certificates.
In his report, Academician Fukuda Toshio elaborated on the development of robots from macro, walking and climbing robots to micro medical robots. He discussed the importance of micro-nano development to robotics discipline. He believes that micro-nano technology is one of the most promising technologies for the next 10-20 years and will be the "stepping stone" for robotic technology to gain long-term development. With its small size it can sense and transfer energy more efficiently. Micro-nano technology will revolutionize the environmental, communications, food and medical industries. He introduced his research achievements in robotics and the latest research progress of his research group in micro-nano mechatronics from three aspects. The focus is on the application of micro-nano mechatronics in life sciences, medical engineering, bio-engineering, and robotics. He also used cellular robots, monkey robots and soccer robots as examples vividly presenting the development of robotic intelligence from the cell level to the tissue level. In his opinion, the robotics industry is like a tree with the basic scientific research as its root and technological innovation as its trunk. Only with scientific research and technological innovation will we make our own robots.
Prof. Nii Kenzo shared his research progress in robotics, micro-nano manipulation and tissue engineering. He highlighted the breakthroughs in industrialization of robots and high speed micro-manipulator "micro-hand" and ultra-high-speed biological cell three-dimensional assembly methods. He presented the morphological, functional and intelligent behavior of macroscale robots and the observation and manipulation of micro-robots at micro and nanoscale. In addition, he discussed the similarities and differences between micro-robots and macro-robots. The "micro-hand" with two fingers imitating chopsticks was described in detail. It can use the end effect to finish the pick-up, movement and rotation of micro-nanoscale objects with high speed and precision. The micro-robot system "micro-hand" can be utilized as a sensing device for micro-structure tests or biological studies such as single cell operations and cell hardness parameter testing. He concluded with a non-contact micro-nano robot system that can use fluid from a rotating microneedle to manipulate cells safely and place, rotate, and detect target biological samples. Both micro-robots can be programmed to achieve more automated biological applications. He maintains that micro-robots, as a new type of robot templates, can be applied in cell detection and more areas of biomedicine.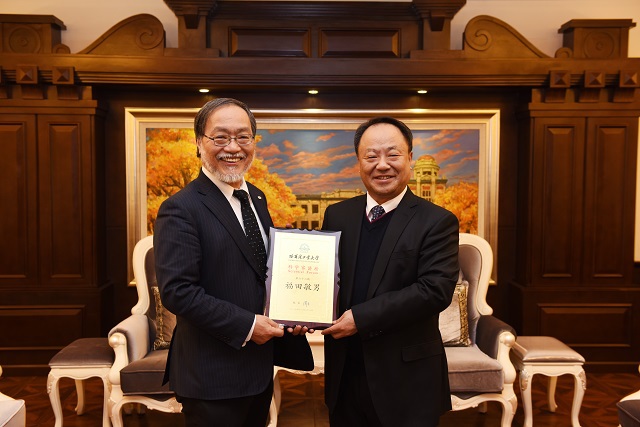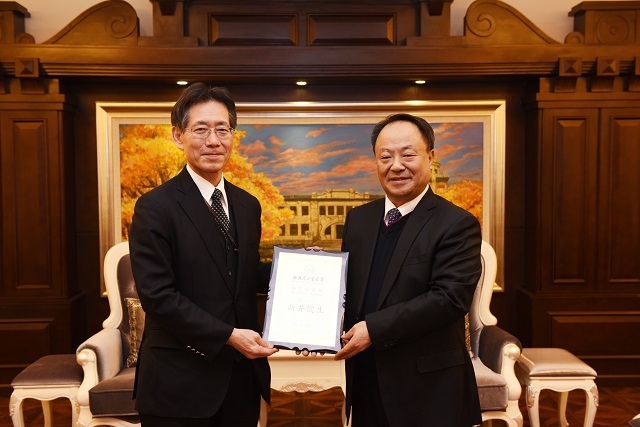 Presenting the appointment certificate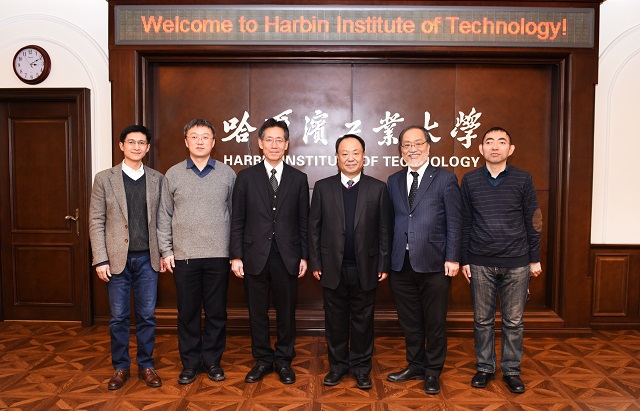 Group photo