Written by: School of Astronautics
Translated by: Siyuan An
Date: March 9th, 2018
Recently, the demonstration project and the launch of the "Distributed Fiber Optic Strain Monitor" was held. The project is led by Prof. Dong Yongkang, the project leader for the development of national major scientific instruments and equipment.
As one of the country's major special scientific equipment development projects, this project aims to develop a distributed fiber optic strain monitor with independent intellectual property rights, high precision, high reliability and environmental adaptability. It emphasizes localization of core components, making full use of cloud computing and big data system architecture and technology. It will achieve remote real-time security monitoring of large-scale infrastructure, geological disasters, etc., realizing engineering development, application demonstrations, and promote industrialization. The project was led by Prof. Dong Yongkang of the HIT as the project leader. ZTE Corporation was the leading unit for industrialization. The joint China Railway Bridge Science Research Institute Co., Ltd., China Communications Highway Planning and Design Institute Co., Ltd., the China Highway No. 1 highway survey design Institute and the Institute of Rock and Soil Mechanics, and the Chinese Academy of Sciences also reported. This project is of great significance for improving China's safety monitoring level in large-scale infrastructure, large-scale structural equipment, and geological disasters. It will improve public safety, and reduce economic losses and social impact.
At the kick-off meeting, Prof. Dong Yongkang gave a report on the overall situation of the project. Six project leaders presented reports on the implementation of the project. The project expert group fully affirmed the research objectives, research content, and feasibility of the research program. They put forward constructive opinions and suggestions for the implementation of the project and follow-up work, addressing key scientific and technical issues to be solved.
Prof. Du Yanliang, a member of the Chinese Academy of Engineering, presided over the launch meeting. More than 30 experts and members from the project team attended the conference.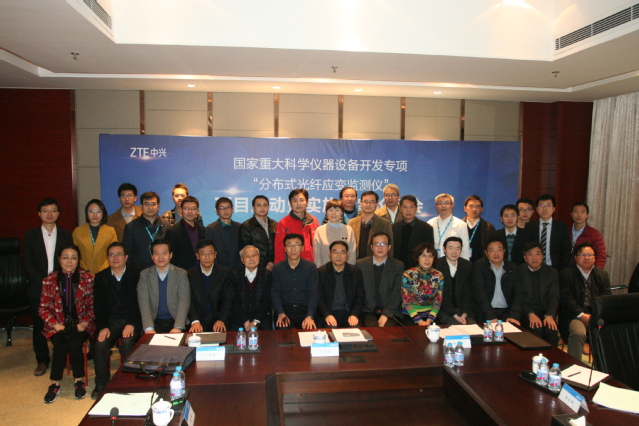 The group photo of experts in attendance