Written by: Liu Peixiang
Translated by: Guo Yanhui & An Siyuan
Edited by: D. Parker
Date:2018-5-7
On the morning of May 5th, 2018, opening ceremonies for HIT's Artificial Intelligence Research Institute and the Artificial Intelligence High-End Forum were held at the International Conference Center on the Science Park campus. The theme for the celebrations was "artificial intelligence creates the future." Li Mingchun, Deputy Governor of Heilongjiang Province, and Xiong Sihao, Executive Deputy Secretary of the Party Committee of HIT addressed the gathering unveiling a the plaque for the Institute. Han Jiecai, HIT Vice President, presided over the opening ceremonies.
In his address, Li Mingchun stated that the establishment of the Artificial Intelligence Research Institute is another major step for HIT proving it to be "the primary source for Heilongjiang province's technological innovation" and helping boost the development of the province. As the old Chinese saying goes, "Well equipped science and technology, lead to a powerful country." The Heilongjiang provincial party committee and the government have always regarded high-tech innovation as an important and leading factor in promoting local economic development and implementing the important instructions of General Secretary Xi Jinping. It continues to strengthen the establishment of innovation capabilities, and the transformation of scientific and technological achievements. The artificial intelligence industry is an important factor for cultivating new economic growth. At the beginning of 2018, Heilongjiang Province issued the "Three-year Special Action Plan for the Artificial Intelligence Industry." Its purpose: to strengthen artificial intelligence innovation capabilities, promote the industrialization of artificial intelligence, and to assist in the coordinated development of innovation, industry and value. HIT's roots in Heilongjiang province go back many years and have made great contributions to China's defense and aerospace industry and national economic construction. It has accomplished many major achievements which are recognized internationally. It is one of the first universities to conduct artificial intelligence research in China. Li Mingchn assured those present that the provincial party committee and the provincial government will continue to fully support the development of the institute. It is anticipated that the institute will carry out solid and effective work on basic theoretical research in artificial intelligence, key technology research, support platform construction, and innovative applications, which will contribute to industrial development with results to be seen in the near future.
In his address, Xiong Sihao reviewed the development and history of artificial intelligence in the world specifically in China. He affirmed the unremitting exploration carried out by HIT in the field of artificial intelligence over the years. He spoke of a series of widely applied results in the fields of handwritten text image recognition, sentence-level pinyin input, and machine translation. He mentioned the large number of outstanding talents for the field of artificial intelligence who are alumni of HIT. With the advent of deep learning and other technologies, artificial intelligence has entered a new phase of development. The rapid development of artificial intelligence in the future will profoundly change human life and the world around us. In 2017, the State Council officially issued the New Generation Artificial Intelligence Development Plan. The provincial party committee and the provincial government also put forward clear hopes for the establishment of the Artificial Intelligence Research Institute. HIT attaches great importance to the development of artificial intelligence and has actively responded to national deployments and local needs. It has seized major strategic opportunities for the development of artificial intelligence. We have established an Artificial Intelligence Research Institute and designated funds for conducting scientific research in the field of artificial intelligence. The Institute will fully integrate the advantages of resources inside and outside HIT. It will break down intra-university and promote cross-disciplinary integration and development. HIT is committed to in-depth integration with industry, and will strive to build a domestic first-class artificial intelligence research institute with international influence. It will make greater contributions to economic development in Heilongjiang Province and China's scientific and technological progress.
Academician Gao Wen, the Academic Director of the Artificial Intelligence Research Institute and an alumnus of HIT spoke via video congratulating HIT in the establishment of the institute. He shared his hope that HIT would continue to play a leading role in artificial intelligence and provide a platform future young talents to join in artificial intelligence research. He encouraged young scholars to actively carry out cutting edge innovation, and lead research promoting the innovative development of China's artificial intelligence industry. Wang Haifeng, an alumni of HIT, who serves as Vice President of Baidu and president of Baidu Research Institute, Bill F. Spencer Jr, President of the University of Illinois at Urbana-Champaign, and Professor Dang Jianwu of Tianjin University also delivered inspiring speeches.
The Institute has established a special academic membership committee. Its purpose is to integrate the wisdom of experts, scholars, and representatives from different sectors, tackle problems, offer advice and suggestions and jointly promote the rapid development of the Institute. Academician Gao Wen will serve as the director of the academic membership committee. Experts, scholars and pioneers from IBM, Microsoft, along with early leaders from the field of artificial intelligence who have opened innovation platforms including Baidu, Ali, Tencent, and HKUST News are members. In addition representatives from universities and research institutes in the United States, Germany, Canada, and Hong Kong serve as academic committee members. Letters of appointment for academic committee members were issued by Xiong Sihao at the meeting..
The Dean of the Institute of Artificial Intelligence is Professor Wang Yadong. The vice presidents are Professor Liu Ting, Zhang Lixian, and Ma Jianwei. At the meeting, Dean Wang Yadong presented the Institute's profile. As early as the 1950s, HIT began research on artificial intelligence, coinciding with initial interest world-wide. In 1958, HIT developed the first domestic computer that could "speak." At that time Deng Xiaoping, the General Secretary of the CPC Central Committee and Vice Premier of the State Council, visited HIT and observed the computer. For more than half a century, our university has not only cultivated a group of outstanding artificial intelligence talents such as Academician Gao Wen, but also has trained the highest number of artificial intelligence talents in the country. HIT has a solid foundation in artificial intelligence. It also offers a wide and diverse field of studies. There are 7 first-level disciplines in the university in which artificial intelligence is closely related. Among them, four disciplines such as computer and control have been selected as "Double-First class" disciplines. Since 2000, HIT has made a number of important scientific research achievements in the fields of machine perception and pattern recognition, natural language processing, robotics and intelligent systems in the field of artificial intelligence. It has won 13 national science and technology awards, and published more than 2000 articles. Our university has established close cooperation with famous companies at home and abroad. IBM, Microsoft, Baidu, Ali, Tencent, and HKUST, are among those who have carried out joint scientific research and training of talents. A large number of innovative achievements have been successfully applied and promoted. Outstanding graduates are engaged in artificial intelligence research and praised by employers.
The Artificial Intelligence Institute will be based on four levels of theory, seeking innovation in the areas of technology, platform and application, foundations of artificial intelligence, machine learning, intelligent control theory, brain science and intelligence, machine perception and pattern recognition, natural language processing and knowledge engineering. Hybrid enhanced intelligence, autonomous intelligence, and artificial intelligence applications (including smart manufacturing, intelligent civil engineering, smart finance and business, intelligent pension, and intelligent remote sensing) have been established in eight divisions. The first group of 30 researchers, made up of outstanding young and middle-aged scholars in the field of artificial intelligence from HIT, will be assigned to the Institute. The Institute will be a trailblazer in the development of artificial intelligence science, technology and industry. It will bring together first-rate research teams, create first-class research results, cultivate first-class scientific and technological talents, and become a world-class artificial intelligence innovation base.
Leaders participating in the forum of "Smart Future" artificial intelligence included Tencent artificial intelligence laboratory director and planning expert Zhang Hao, Shen Xiawei, IBM Global Vice President, IBM China Research Institute, IBM Greater China CTO, the Hamburg, Germany Director of the University Multimodal Technology Institute, Academician of the Hamburg Academy of Germany, Zhang Jianwei, Associate Dean of Microsoft Research Asia, and ACL President Alumni Zhou Ming. Topics included "AI Industrial Development And Tencent Practice," "Foreseeing Innovation and Transition in the Age of Artificial Intelligence," "Cross-Modal Learning in the Cognitive Information Physics System," and "Progress in Language Intelligence."
Later in the day, the Academic Committee of the Academy held their first meeting conducting in-depth discussions and exchanges and planning for the future development of the Institute.
Famous experts and scholars from home and abroad, representatives of industry and enterprise, leaders of relevant departments from various provinces and cities, Xu Xiaofei, HIT vice president and principal of the Weihai Campus, leading faculty members from our school, along with teachers and students from various colleges attended the unveiling ceremony and forum.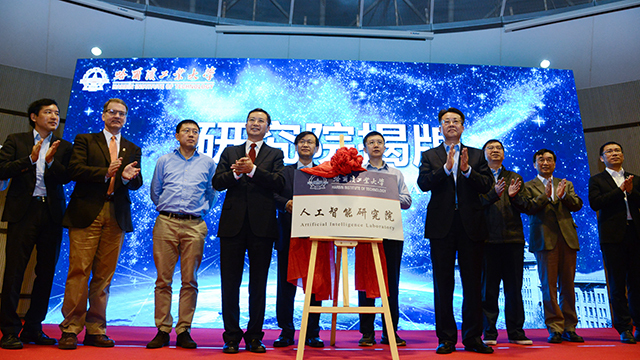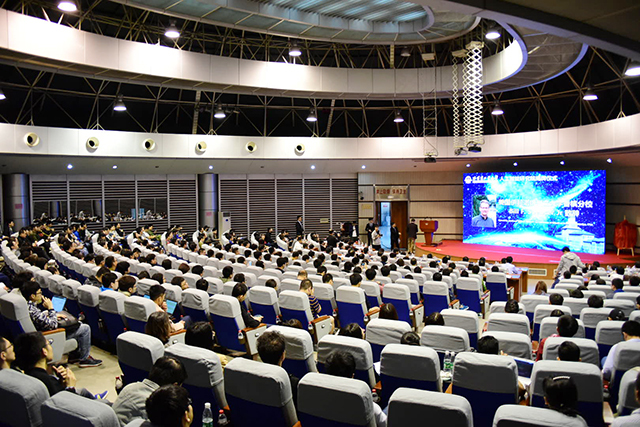 Inauguration ceremony and high-end forum site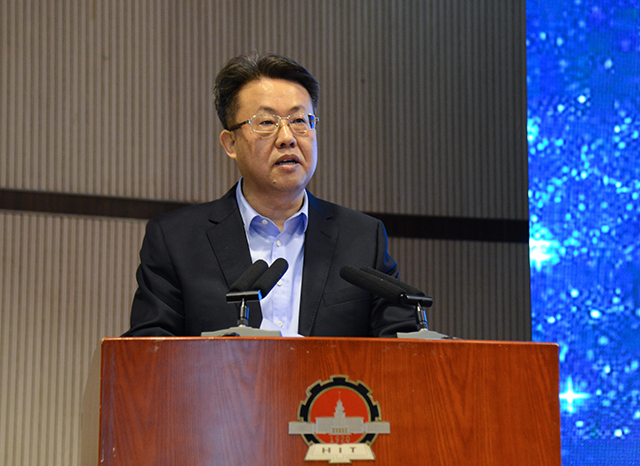 Li Mingchun, deputy secretary-general of the provincial government, gives a speech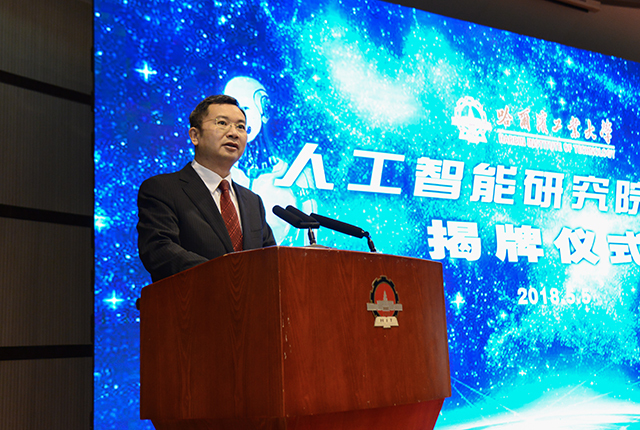 Speech by Xiong Sihao, Deputy Secretary of the Party Committee of HIT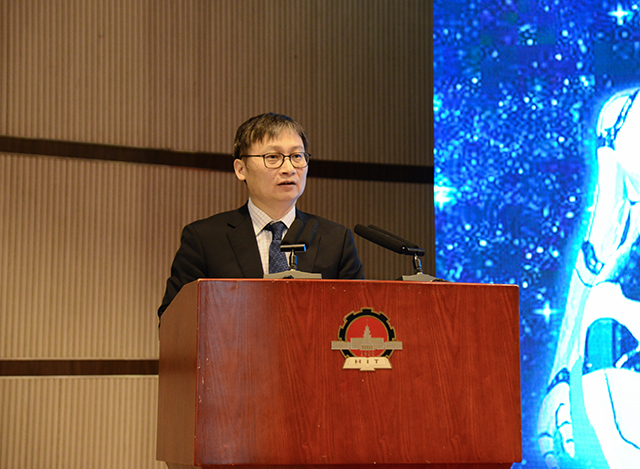 Vice President Han Jiecai presides over the opening ceremony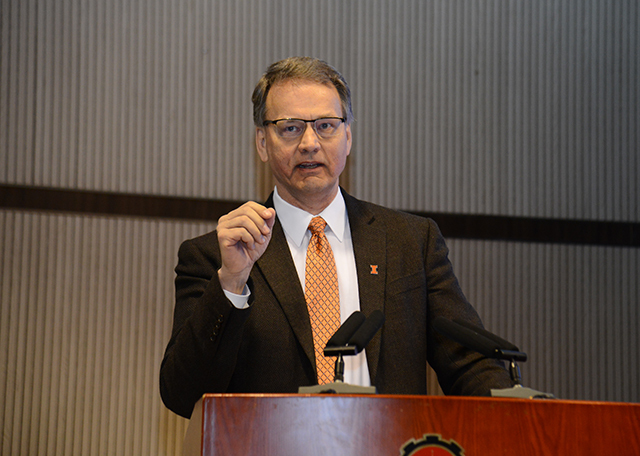 Speech by Prof. Bill F. Spencer Jr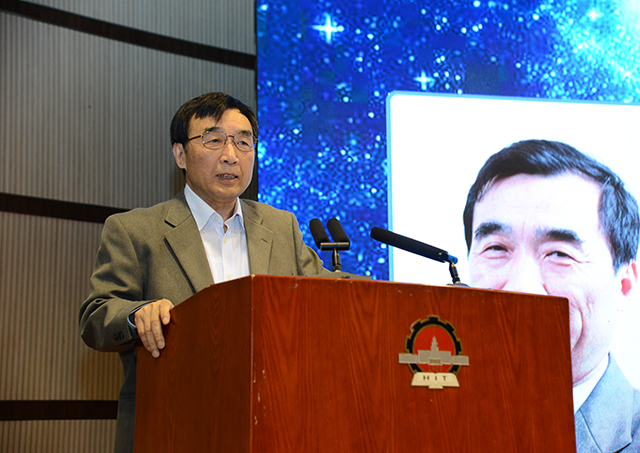 Prof. Dang Jianwu delivered a speech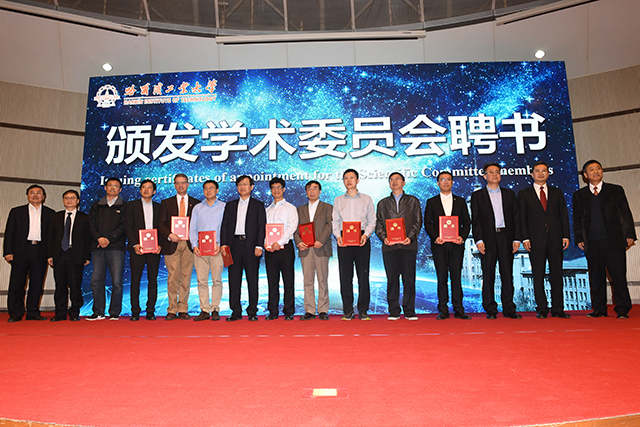 Letter of appointment for academic committee members
President Dean Yadong introduced the overview of the institute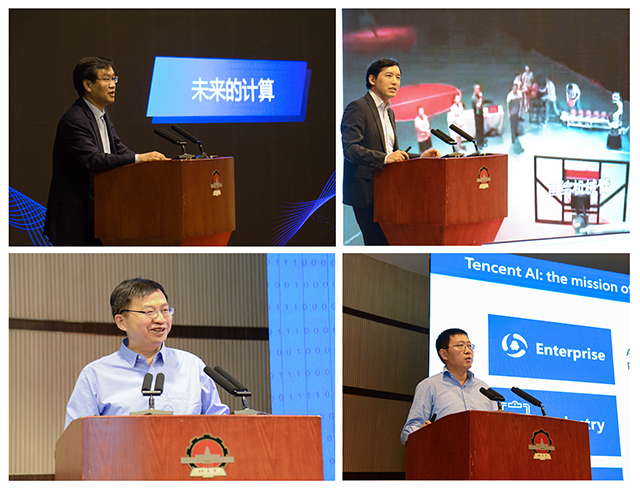 Academic report
Editor:Liu Peixiang