Written and Photographed by: School of Chemical Engineering
Translated by: Xu Hao
Edited by: D. Parker
Date: June 1, 2018
Recently Academician Wang Yuzhong, an expert on organic polymer materials, attended the "Lecture Room for Scientists" and gave a report entitled "Sustainable Development of Polymer Materials" to teachers and students.
In his report, Academician Wang introduced in detail the research fields of flame-retardant materials, bio-based and biodegradable polymer materials, and the recycling of polymer materials. He explained the critical technology used by polymer materials to effectively break restrictions in the industry. He believes that with the continuous progress of society, the use of polymer materials in China will increase year by year, resulting in the emergence of a large amount of polymer materials "junk." With the continuing development of the economy and the continuous use of energy, China's resources are in short supply. Therefore, the recycling of polymer materials is of vital importance. Effective recycling will not only save resources but also reduce environmental pollution. In addition, he introduced research results from his own research group in the field of flame-retardant polymers.
At the end of the report, Academician Wang shared from his personal experience in exploring and innovation in professional fields as an example to describe the process of constant innovation and development in frontier areas. He encouraged the teachers and students present to constantly tap their own potential in innovation and creativity. They can join in putting forward effective solutions for Resource Starvation, environmental pollution and other social issues.
Huang Yudong, Dean of the School of Chemistry and Chemical Engineering, presented the award to Academician Wang Yuzhong as the "Guest of the Lecture Room for Scientists."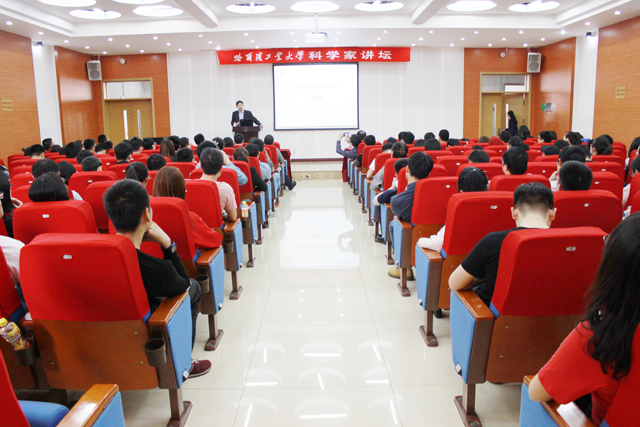 Academician Wang delivers his report.