Written by: Liu Zhongkui, Xu Wanlin, Wang Kaiyang, Niu Yuehong
Translated by:Fu Ruiyao
Pictures by:Li Jiaqi,Wang Li, Xu Wanlin, Wang Kaiyang
Date: 2018-08-20
Introduction
Are you still immersed in a flood of fresh feelings when you see the exquisite decoration of the dining hall from Internet friends?
Actually, it should be known not only for its decoration, but also its strength.
Today, let's look from another perspective.
Let me enumerate some of the amazing food in the dining halls of HIT!
Classic Double Cooked Pork Slices
Location: At the northwest corner on the third floor of the Xueyuan Building
Price: 12 yuan per piece
Even if you have not ever been to the Northeast, you certainly have heard about the double cooked pork slices in the Northeast. Because of its sweet and sour taste and crispy texture, it has become a famous specialty dish in the northeast region.
The double cooked pork slices available at the Xueyuan Building adopt a traditional cooking method. The aroma of vinegar is mixed with the scent from frying, the flesh is slightly soft, the center is tender with a crispy crust, and the juice is not sticky but rich when you take a sip. Unlike ordinary double cooked pork slices, the dish provided at HIT uses minced garlic as seasoning but does not have a strong garlic flavor. There are 10 or so pieces of meat on one plate, which is enough to satisfy one person's craving, and also relieve three people's hunger.
Self-Selected Mixed Vegetable Dish
Location: in the middle part of the west side on the 3rd floor of the Xueyuan Building
Price: 12 yuan per jin, vegetable dishes and meat dishes are available, and meat dishes are limited to 2 liang for each person
Did you think few vegetables would be available when you came to the Northeast? That the food would be rather greasy? The self-selected mixed vegetable dish is able to soothe all of your worries! The mixed vegetable dish in the Xueyuan building is mainly a vegetarian dish with a small amount of meat. Meat choices include meatballs, sausage, and so on, which have relatively light flavor so as to ensure balanced nutrition for everyday health! You can choose from either sour and sweet, or salty and spicy flavors. Whether you come from the South or the North, you can always find familiar flavors here.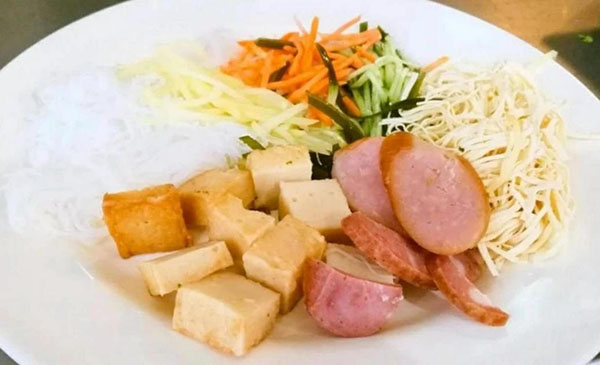 All Kinds of Pastries
Location: Beside the north elevator on the third floor of the Xueyuan Building
Price: 3 yuan and above
The various delicacies are a gorgeous feast for your eyes. Cream outlines decorative borders, jams create fancy embellishment, and the sweet combination of cream and jam tempt your taste buds. With a plate of delicate cream cake and a cup of black tea, you can also enjoy your afternoon tea time in the dining hall of HIT.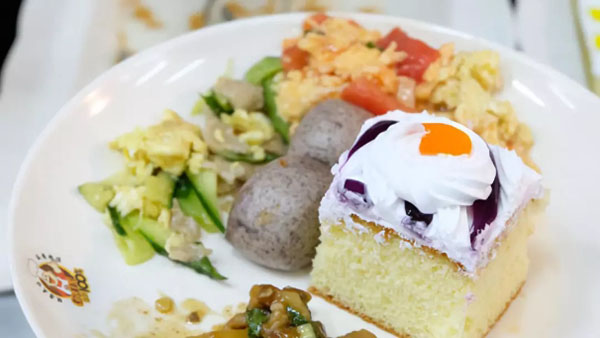 Jiudan Ramen
Location: on the west side of the second floor of the Xueyuan Building
Price: 7 to 14 yuan
Choose the flour, knead the dough, let it rise, knead it repeatedly, tamp and stretch the dough, and quickly make it by hand with just the right strength. After a short while, a skillful cook makes the dough into thin noodles. Cooked in a rich salty soup, you can enjoy a great meal of these noodles paired with delicious side dishes. The noodles are never bland and tasteless. In addition to soup noodles, the special fried noodles also make your fingers itch for chopsticks, and the fried noodle with shredded pork in garlic sauce is also a good choice.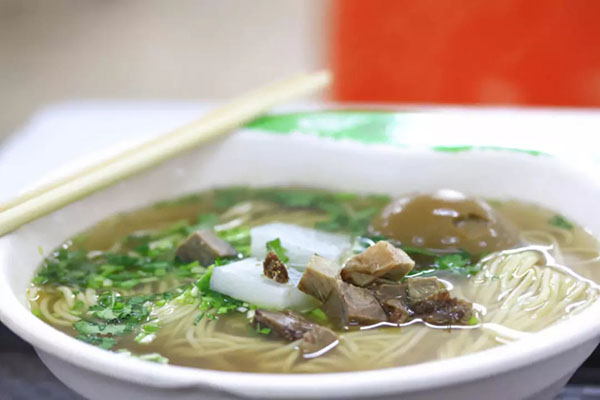 Jinxiu Buffet
Location: on the second floor of the Jinxiu Building
Price: 12 yuan per jin
Are you a vegetarian? No need to worry. You can eat all kinds of green vegetables here. Are you a heavy meat-eater? This restaurant has got you covered. You can also find mouthwatering fried chicken slices, various meatballs, as well as fresh fish here... Juicy fruits may help you to digest greasy food and prevent you from being sleepy, or you can have a dessert after your meal to add some flavor to life!
Fried Rice
Location: Dining hall in the Jinxiu Building
Price: 7 to 12 yuan (including fried rice and fried noodles, wherein the price of fried noodles is 1 yuan higher than that of fried rice)
| | | |
| --- | --- | --- |
| | Fried Rice | Fried Noodles |
| Eggs | 7 | 8 |
| Ham and Eggs | 8 | 9 |
| Preserved Meat | 8 | 9 |
| Sausage | 8 | 9 |
| Streaky Pork | 8 | 9 |
| Shrimp Meat | 12 | 13 |
The fried rice at the dining hall in Jinxiu is a pretty good choice for students who missed the time for dinner, as the fried rice is always plentiful, tasty, and available all day long. During the stir-frying, each grain of rice becomes golden and plump with the rising temperature, which marks the second ripening for a grain of rice after leaving the field. Seasonings such as pepper and cumin can be added according to your preference. Come and enjoy fried rice that matches your taste!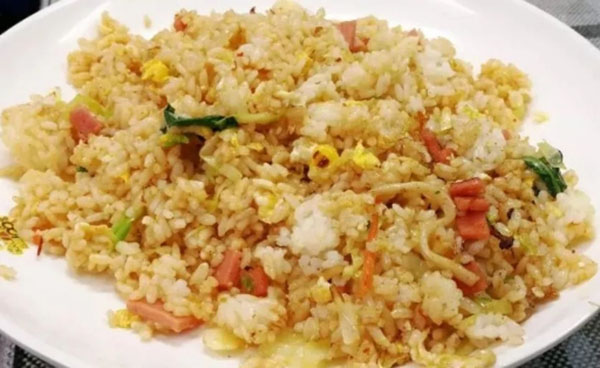 Dumpling
Location: Zhenwei Dumpling House
Price: 8 to 12 yuan
When a plate of steaming dumplings is placed on the table, it looks particularly appetizing. The experience of eating a dumpling is quite tasty, from dipping it in the vinegar, taking a bite, feeling the slippery texture of the dumpling wrapper, and enjoying the ample, rich filling of meat and vegetables that permeate your mouth with a unique fragrance. Dumplings with fillings such as chives with eggs, three treasures (a combination of three kinds of fresh vegetables), three treasures with shrimp, gold medal fish, and so on, have won a good reputation among teachers and students.