Written by: Liu Zhongkui, Xu Wanlin, Wang Kaiyang, Niu Yuehong
Translated by:Fu Ruiyao
Pictures by:Li Jiaqi,Wang Li, Xu Wanlin, Wang Kaiyang
Date: 2018-08-20
Introduction
Are you still immersed in the a feeling of freshness
For the exquisite decoration?
Actually it can become famous for its strength rather than decoration
Today, from another perspective,
Let me numerate some amazing food in the dining hall of HIT
Classic Double Cooked Pork Slices
Location: At the northwest corner on the third floor of Xueyuan Building
Price: 12 yuan per piece
Perhaps you may not have ever been to northeast, but you certainly have heard about the double cooked pork slices in the northeast. Because it tastes sweet and sour with the "burn cutlet", it has become a famous special dishes in the northeast region.
Double cooked pork slices available at Xueyuan Building adopts traditional cooking method. The burnt aroma and the vinegar scent are mixed, the flesh is slightly soft, tender with a crispy crust, the juice is not thick but rich when you take a sip. Different from the general double cooked pork slices, such dish provided at HIT uses minced garlic as seasonings minus garlic flavor. There are 10 pieces of meats or so in one plate, which is enough for one to eat, three people to relieve their cravings.
Optional Cold Vegetable dish
Location: in the middle part of the west side on the third floor of Xueyuan Building
Price: 12 yuan per jin, vegetable dishes and meat dishes are available, and meat dishes are only 2 liang for each person
Do you think few vegetables are available when you come to northeast? The food is rather greasy? Optional cold vegetable dishes are to meet all kinds of dissatisfaction! The optional vegetables in Xueyuan building is mainly vegetarian dishes with a small amount of meat dishes. Meat dishes include meatballs, sausage and so on, which have relatively light flavor so as to ensure balanced nutrition for everyday health ! Sour and sweet, salty and spicy are two flavors you can chose. Whether you come from the south or the north, you can always find familiar flavors here.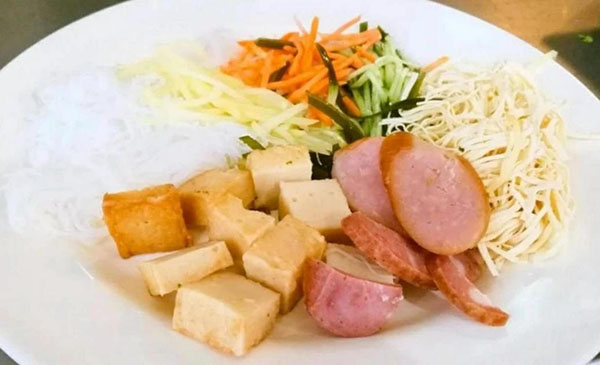 All Kinds of Pastries
Location: Beside the north elevator on the third floor of Xueyuan Building
Price: above 3 yuan
Various pastries are delicious and gorgeous enough to feast your eyes. The delicate lace outlined by butter, the floral ornamentation made by jam, and the sweet combination of butter and jam are tempting your palate. With a plate of delicate cream cake and a cup of black tea, you can also enjoy your afternoon tea time in the dining hall of HIT.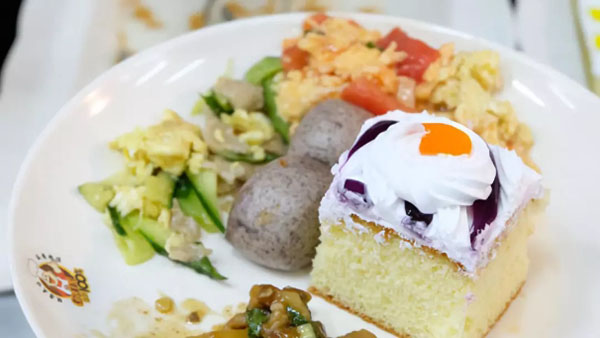 Jiudan Ramen
Location: on the westside of second floor of Xueyuan Building
Price: varies from 7 yuan to 14 yuan
Choose flour, knead dough, the proof the dough, repeatedly knead, tamp and stretch the dough by hand with proper strength. In a while, the dough is made into fine noodles by a skillful cook. Cooked with a rich salty soup, you can enjoy such noodles with side dishes when the noodles are cooked with rich salty soup. Noodles are never mild and simple. In addition to soup noodles, distinctive fried noodles also make you glut yourself with delicacies,  shredded pork with garlic sauce fried noodles is also a good choice.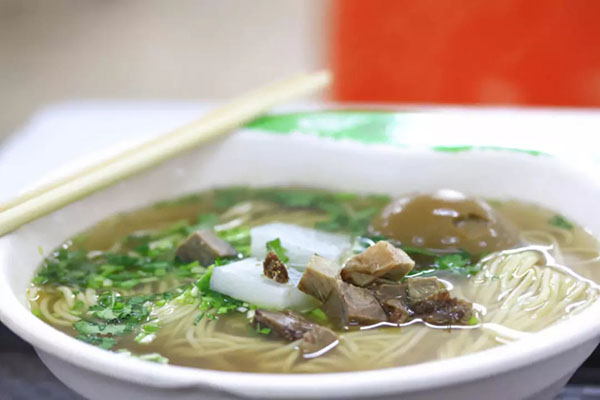 Jinxiu Buffet
Location: on the second floor of Jinxiu Building
Price: 12 yuan per jin
You are a vegetarian? No need to worry. You can eat all kinds of green vegetables at once here. You are a heavy meat-eater? It doesn't matter. You can also find mouthwatering fried chicken slices, various meatballs as well as fresh fish here... Juicy fruits may be helpful for you to digest greasy food and prevent you from being sleepy, or you can have a dessert after meals, adding some flavor to life!
Fried Rice
Location: dining hall in Jinxiu
Price: 7 yuan to 12 yuan (including fried rice and fried noodles, wherein the price of fried noodles is 1 yuan higher than that of fried rice)
| | | |
| --- | --- | --- |
|   | Fried Rice | Fried Noodles |
| Eggs | 7 | 8 |
| Ham and Eggs | 8 | 9 |
| Preserved Meat | 8 | 9 |
| Sausage | 8 | 9 |
| Streaky Pork | 8 | 9 |
| Shrimp Meat | 12 | 13 |
Fried rice provided at the dining hall in Jinxiu is a pretty good choice for students who missed the time for dinner as the fired rice is adequate in amount, full of fragrance and all day available. During the stir-frying, each grain of rice are tinted with golden color and expanded with the rising temperature, which marks the second ripening for a grain of wheat since it leaves the field. Seasonings such as pepper and cumin can be added according to your taste. Come and enjoy a fried rice that matches your taste.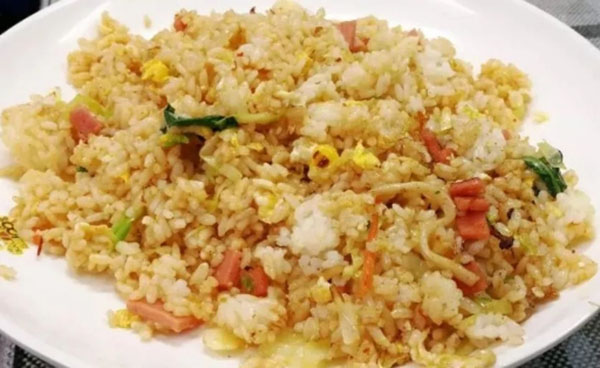 Dumpling
Location: Zhenwei Dumpling House
Price: 8 yuan to 12 yuan
A plate of steaming dumplings on the table looks appetizing. When you dip a dumpling in the vinegar, then bite it, you will certainly feel how slippery and chewy the dumpling wrapper is, sufficient fillings are mellow ad rich, which is mixed with meat and vegetable, as a result, the unique fragrance would permeates within your mouth, it is quite worth tasting. Dumplings with fillings such as chives with eggs, new three delicacies(a combination of three kinds of fresh vegetables), shrimp three delicacies, gold carving fish and so on have won good reputation among teachers and students.