Written by: Chen Wenli
Translated by: Wu Han
Date: August 30, 2018
HIT News (Text/Chen Wenli, Photo/Tu Mu). Hosted by International Association for Structural Control and Monitoring, undertaken by HIT; International Association for Structural Control, China Branch; and Structural Vibration Control and Health Monitoring Professional Committee of Chinese Society for Vibration Engineering, and co-organized by Qingdao University of Technology and China Bridge, Seventh International Conference on Structural Control and Monitoring was held in Qingdao. Professor Li Huiren from School of Civil Engineering attended the conference.
The conference was attended by 768 delegates from 25 countries and regions, including Li Hui, President of the association; Yozo Fujino, Fabio Casciati, Jose Rodellar; former Presidents of the association; Secretary General SamiF Masri; Ou Jinping, Academician of the Chinese Academy of Engineering; Zhai Wanming, Academician of the Chinese Academy of Sciences; Chen Zhengqing, Wang Fuming, Wu Zhiqiang, Academicians of the Chinese Academy of Engineering; Nordisk E. Huang, Academician of National Academy of Engineering; James L. Beck from California Institute of Technology; Billie F. Spencer from University of Illinois at Urbana-Champaign; Campbell Middleton from Cambridge University; Chung-Bang Yun from Korea Advanced Institute of Science and Technology; Hong Hao, Academician of the Australian Academy of Technology and Engineering; Xu Youlin, Li Hongnan, Du Xiuli, Wu Zhishen, Li Shucai, Chinese well-known structural control and monitoring experts; Zhou Wei, chief engineer of the Ministry of Transport; and Zhao Tiejun, Yu Dehu, vice presidents of Qingdao University of Technology.
The conference had academic exchanges focused on the topics such as civil engineering advanced sensing technology, structural health monitoring data science, civil engineering artificial intelligence, structural state assessment and life management, structural health monitoring integration technology, highway bridge health monitoring, high-speed railway dynamics and health monitoring, wind energy generation system health monitoring, structural health monitoring engineering application, structural vibration control, self-recovering seismic structure, bridge structure multi-disaster control, and long-span bridge flow control. 16 conference reports, 61 invitation reports, and 469 technical reports were made.
During the conference, the award ceremony for the Kobori Prize winners was held. Professor Li Hui hosted the Council of International Association for Structural Control and Monitoring and the Council of the Asia-Pacific Intelligent Structure Technology Association. Participants visited the Shandong Expressway Jiaozhou Bay Bridge Health Monitoring System and the Qingdao Citizen Fitness Center Health Monitoring System.
International Association for Structural Control and Monitoring was founded in 1990 by GW Housner, T Kobori, F Casciati and our academician Xie Lili. After more than 20 years of development, the Society enjoys a high reputation in the field of international structural vibration control and monitoring and also an authoritative international academic organization, which divided into six branches: US branch, Chinese branch, European branch, Japanese branch, Korean branch and Australian branch. Professor Li Hui is currently the president of the association. International Conference on Structural Control and Monitoring is held every four years. The first six sessions have been held in Los Angeles, the United States; Kyoto, Japan; Como, Italy; San Diego, the United States; Tokyo, Japan; and Barcelona, Spain. This conference was held in China for the first time.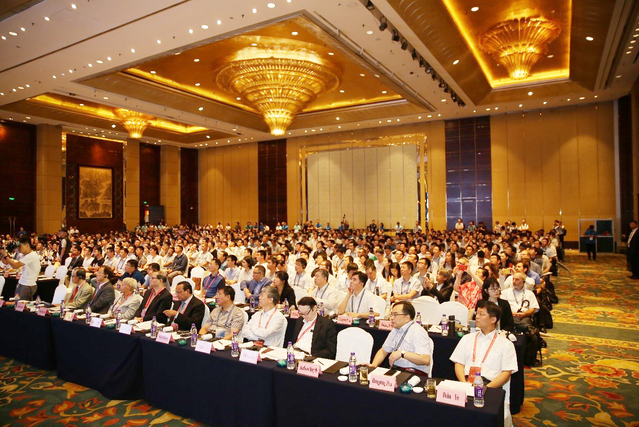 Full view of the conference room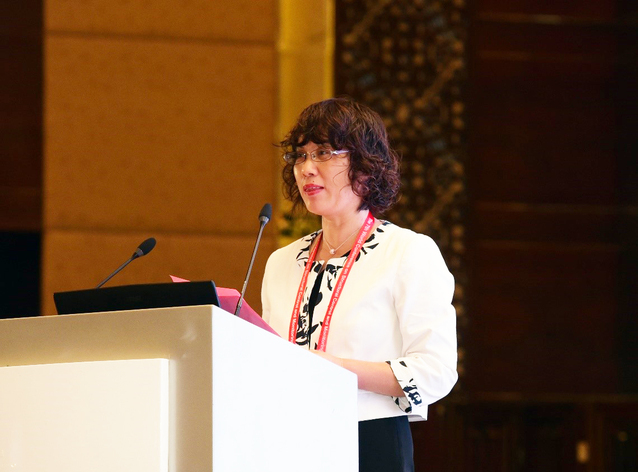 Li Hui, president of IASCM, held the opening ceremony.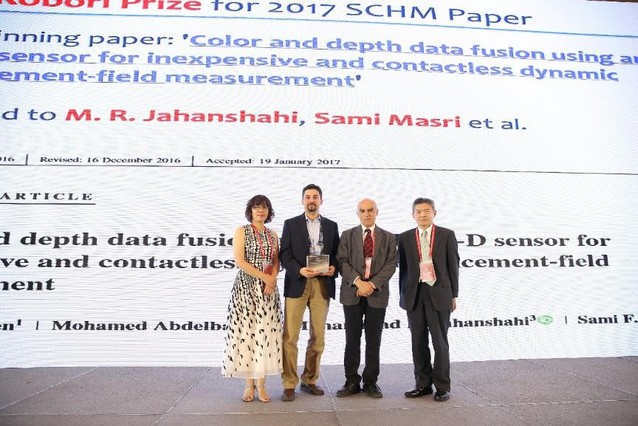 Award ceremony of Kobori Prize