Translated by:Fu Ruiyao
Date: 2018-07-28
The 5th "Excellence Cup" Chemistry Experiment Design and Chemistry Experiment Skills Contest for College Students was held at Harbin Institute of Technology (HIT) from July 22nd to 24th, and vice president of HIT, An Shi attended the closing ceremony of the contest.
On behalf of the organizer, An Shi expressed his congratulations on the success of this competition, and he also hoped to further strengthen the cooperation between our university and other colleges and universities, further improve the experimental teaching level of chemistry and chemical engineering in China, and further promote the cultivation of innovative talents suitable for social development.
The contestants of the Chemical Experiment Skills Contest were randomly selected by the organizing committee from the juniors of universities in the League of Excellence to test the standardization of the experimental operation and the comprehensive application of the chemical knowledge. The new chemical experiment design competition that students are allowed to organize their own teams mainly guides students to design chemistry experiments independently, emphasizes the combination of fundamental theory of chemistry and practice, and strengthens their understanding and application of the foundation of chemistry theory, so as to cultivate students' innovative spirit and teamwork awareness.
There were 27 teams participating in the New Chemical Experiment Design Contest and 27 contestants in the Chemical Experiment Skill Contest, all of which reached a new high record. After fierce competition, the final Chemical Experiment Skill Contest finally selected 3 first prizes, 8 second prizes and 9 third prizes. The New Chemical Experiment Design Contest finally selected 6 first prizes, 8 second prizes and 7 third prizes. In the "New Chemical Experimental Design Contest", the contestants on behalf of HIT performed excellently that Wang Honggang, Zhang Xuesong and Huang Rui won the first prize, Yan Qi, Zhang Hongwei and Wang Weina won the second prize; in the "Chemical Experiment Skills Contest", the contestants Yu Wenbin, Wan Junyi won the second prize and Hu Jiaming won the third prize.
Nearly 200 undergraduates from the nine universities of the League of Excellence and more than 60 chemistry experiment teaching experts from a host of universities and colleges gathered at Harbin Institute of Technology. More than ten well-known professors such as Professor Deng Changgong, a national distinguished teacher at Dalian University of Technology, and Professor Tang Xiangyang from Tianjin University National Chemistry and Chemical Experimental Teaching Demonstration Center served as judges of this contest.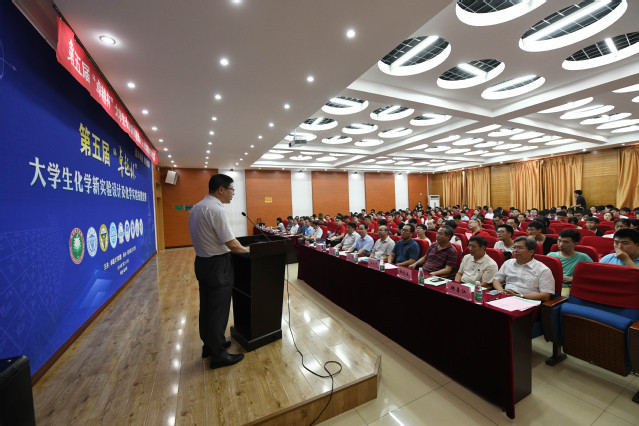 The Contest Site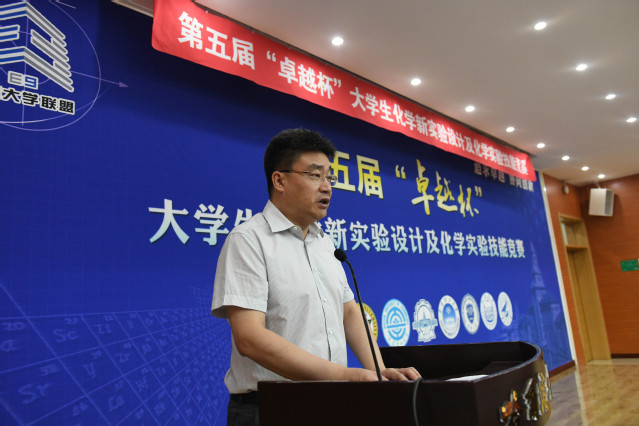 Vice president An Shi attended the closing ceremony.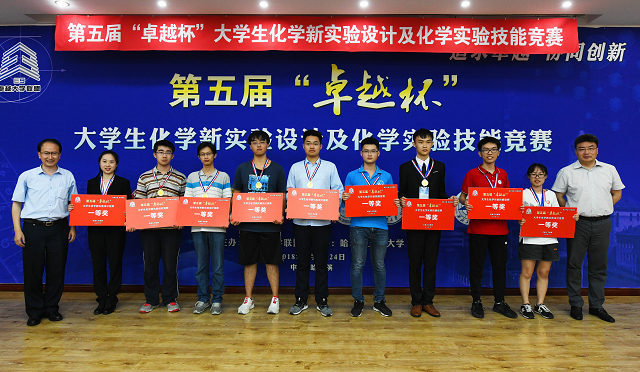 Prize-awarding ceremony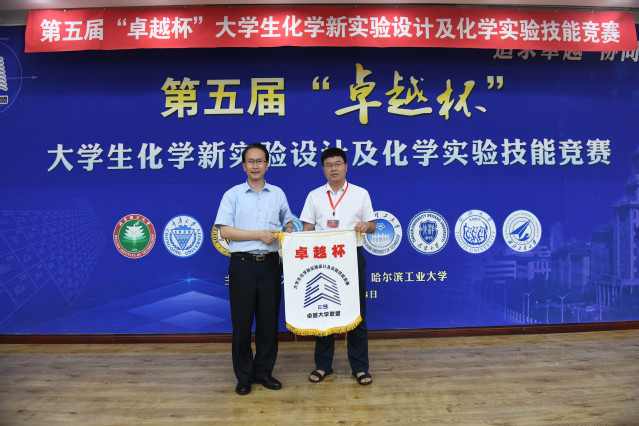 Contest flag passing ceremony