Written by: Ji Xuan
Translated by: Zhao Yuhang
Edited by: William Mosteller
HIT News (Ji Xuan Text/ Picture) On October 26th, the first China "AI+" Innovation and Entrepreneurship Competition and the 20th China Robot and Artificial Intelligence Competition came to an end. The student team led by Professor Piao Songhao and Associate Professor Huang Qingcheng of the HIT School of Computer Science won the first prize of the Robot Innovation Competition of the China Robot and Artificial Intelligence Competition. The participants included students from the School of Economics and Management, the School of Science, and the School of Computer Science, Wang Jingyi, Chi Jiayang, Tang Jiaqi, Cui Luyuan, Pei Shaoyi, and Jiang Haiyang.
As a concurrent event of the fourth session of the China (Guangdong) International "Internet +" Expo, this competition was one of the most interactive and highly regarded events. Within the competition, there were three major categories of competitions: the Robot and Artificial Intelligence Competition, the Digital Media Creative Design Competition, and the "AI+" Automatic Driving Competition. 1,120 participants from 203 colleges and universities such as Tsinghua University, Fudan University, and HIT participated in the competition.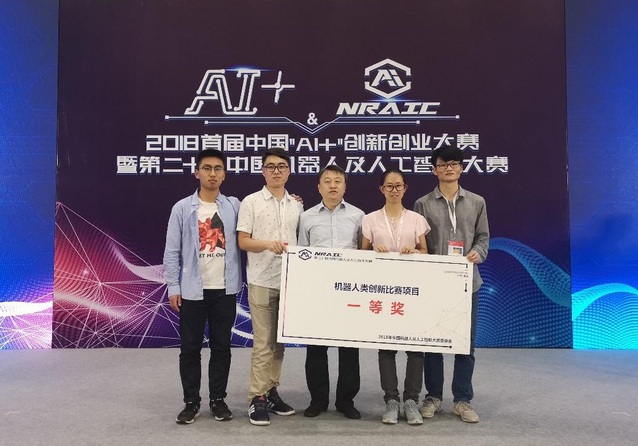 Photo of the winning team