Written by: LIU Zhongkui
Translated by: YANG Yue
Edited by: William Mosteller
Date:1-15
After LIU Yongtan, an academician in HIT, was given the State Highest Science and Technology Award of 2018, a letter of congratulation was sent by CAE on January 9th. The full text of the letter reads as follows.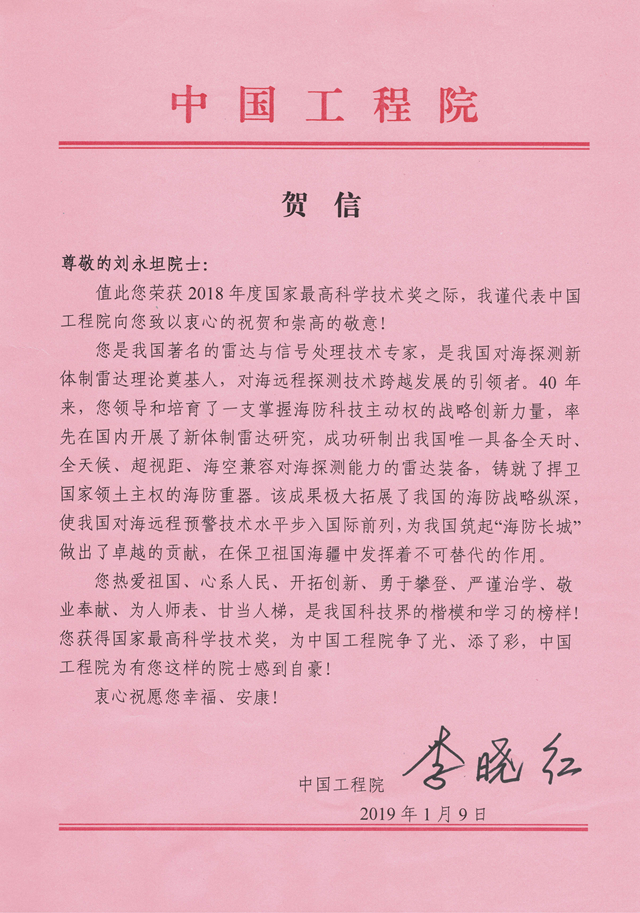 Respected academician LIU Yongtan:
On behalf of CAE (the Chinese Academy of Engineering), I would like to extend my sincere congratulations and high respect for your honor of the State Highest Science and Technology Award!
As a celebrated expert in radar and signal processing technology, you have laid the foundation for the new radar system for ocean detection. As a pioneer, you have made a contribution to the great-leap-forward development of oceanic remote detection technology. Over these four decades, you have guided and cultivated a strategic and innovative team, which has had the initiative of developing science and technology for coastal defense. You have taken the lead in developing a new radar system nationwide, due to which the first all-time and all-weather radar in China with BVR and air detection performance was invented. It is of great significance in ocean defense and state territory and sovereignty. This achievement plays a necessary role in guarding national sea frontier, expanding the scope of our sea defense strategies, making China step into the international forefront of marine remote warning technology, and making a tremendous contribution to state oceanic defense.
You are a model of virtue in the domestic scientific research community for your patriotism, concern for and dedication to our common spirit of innovation, courage when confronting challenges, rigorous scholarship, and professional ethics! We are so proud of you for your success!
Best wishes for your happiness and good health!
The Chinese Academy of Engineering
LI Xiaohong
January 9th, 2019