Written by: ZHANG Yan
Translated by: YANG Yue
Edited by: William Mosteller
Date: 4-18
Harbin Institute of Technology News (WU Li/Text) Recently, the final of the Fourth National Material Design Invitational Competition for College Students (MDC), held in Xiamen University and sponsored by the National Alliance for Innovative and Entrepreneurial Practice of College Students and Xiamen University, came to an end. Under the guidance of WANG Zhihong, associate professor of the physics college of HIT, the "Kong Wu You Li" team (whose name means having great physical power and courage and was made from the first names of two students), composed of SHANG Minghao and WANG Yuzhi, two undergraduate students of 2015, and ZHANG Yufei and HU Junjie, two undergraduate students of 2016, won the special award.
The National Material Design Invitational Competition for College Students (MDC) is sponsored by the Chaozhou Third Ring Road and held by Xiamen University. It has a strong influence in China. Launched in November 2018, the competition attracted 131 undergraduate teams from 50 colleges and universities across the country to participate under the theme of "Raw Materials Become Processed Materials, Processed Materials Become Devices, and Devices Work Well--Advanced Materials and Sustainable Development". After a series of selection, 45 teams from 34 colleges and universities, including Tianjin University and Nankai University, entered the final. Our "Kong Wu You Li" team, which participated in this competition for the first time, successfully entered the final by virtue of outstanding performance, and eventually won the special award. The team's "Direct Flame Construction of Micro-Nano Porous Silver SERS Probe" realized the construction of the micro-nano porous structure on the surface of a silver wire, and fabricated it into a surface-enhanced Raman spectroscopy (SERS) probe with ease, low cost, and high efficiency. The SERS probe was not only enhanced significantly, but also reused repeatedly. The work was highly praised by experts attending the meeting.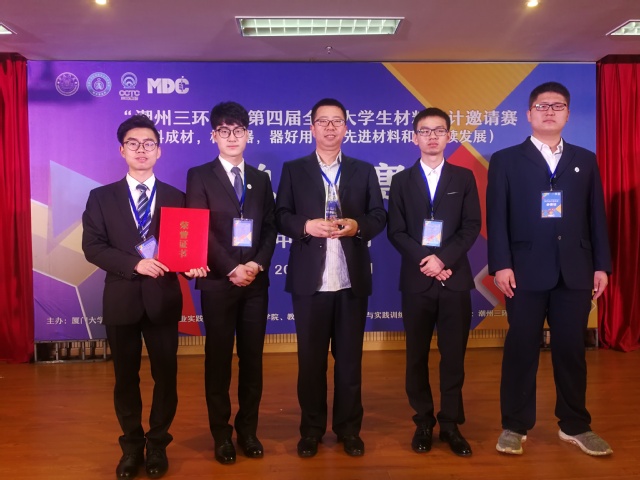 The Group Photo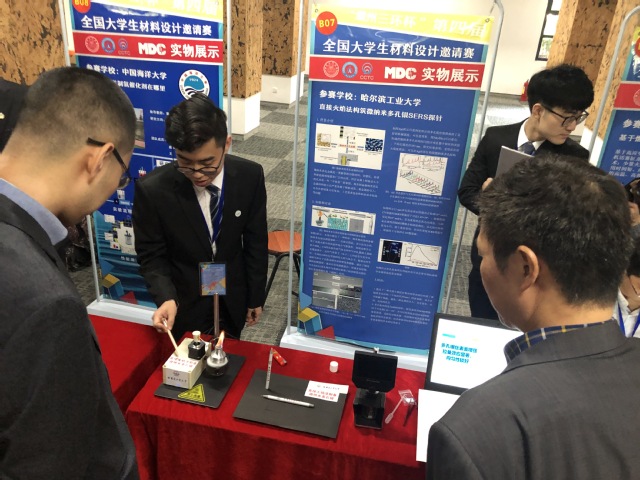 The Site