Written by: FENG Yang
Translated by: LIU Danyang
Edited by: William Mosteller
Date: 5-20
Harbin Institute of Technology News (SHANG Yankai/text LAN Rui/photo) On the morning of May 16 , Harbin Institute of Technology-West Lake University inter-school cooperation framework agreement signing ceremony was held at the university. ZHOU Yu, President of our university, and SHI Yigong, President of West Lake University attended the ceremony and delivered speeches. On behalf of the two universities, AN Shi,Vice President of HIT and ZHU Xiaoyun, Vice President of West Lake University signed the agreement.
According to the agreement, the two universities will establish a cooperative partnership based on the principle of "complementing each other's strengths, sharing resources and win-win cooperation", to jointly explore the reform and innovation of education and scientific research system and mechanism, and establish an inter-university cooperation and consultation mechanism. The two universities will explore the sharing of educational resources, the reform of teaching methods, the construction of a curriculum system, the exchange of visits between students and so on, and set up a cooperative training mechanism for top-notch innovative talents. In the future, the two sides will carry out cross-university and cross-disciplinary scientific research cooperation in areas of common interest, and commit to applied basic research and key technology research in the frontier of disciplinary development. The two sides will also jointly hold high-level academic conferences and other academic exchange activities to explore the establishment of a long-term mechanism for academic dialogue and exchanges. At the same time, the two sides will strengthen exchanges and cooperation in personnel building, enhance information exchange, recommend teachers to each other, and expand channels for talent. Scholars will visit every year to give lectures.
In his speech, ZHOU Yu, on behalf of HIT, welcomed the delegation of West Lake University for exchange and cooperation, thanked Academician SHI Yigong for his long-term concern and support for the construction of life science of HIT, and expressed his appreciation for SHI Yigong's commitment to the reform and exploration of China's higher education with scientific spirit and the love for country. ZHOU pointed out that the signing of the framework agreement on inter-school cooperation between the two sides is a starting point of multi-field cooperation. He expressed the hope that the two sides will give full play to their respective strengths and characteristics in future cooperation, learn from each other in personnel training, and other aspects of the successful experience and good practices. He also hoped that the two universities will strive to explore new ways and new models to achieve the connotative development of colleges and universities, and jointly contribute wisdom and strength to China's higher education reform and the great rejuvenation of the Chinese nation.
SHI Yigong introduced the progress and future development plan of West Lake University in talent introduction and student training since its founding, and shared his personal understanding and experience on how to build a world-class university with Chinese characteristics. SHI Yigong pointed out that Harbin Institute of Technology is a key university with a long history, good reputation, and international influence, and West Lake University is a new type of research university sponsored by social forces and supported by the state. He hoped that the signing of the agreement will serve as an opportunity for the two sides. Through this, the two universities will further strengthen intercollegiate exchanges and cooperation, jointly serve the major strategic needs of the country, actively absorb and draw lessons from the unique practices of world-class universities in running modes and management mechanisms. They will speed up the training of top-notch innovative talents needed for national development. The two sides will jointly promote China to become a powerful country in education, science and technology, and modernization.
Relevant departments of HIT and heads of the School of Life Science participated in the activities.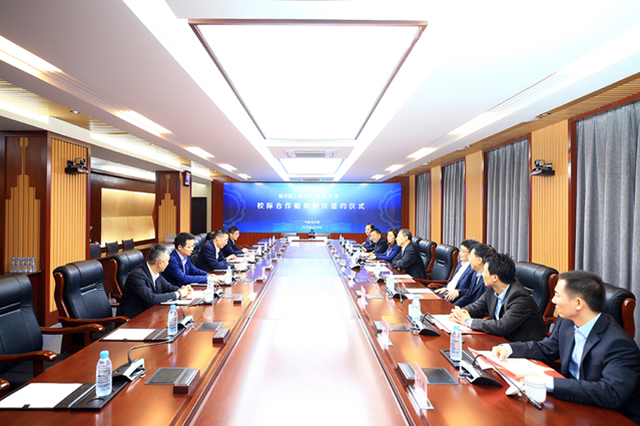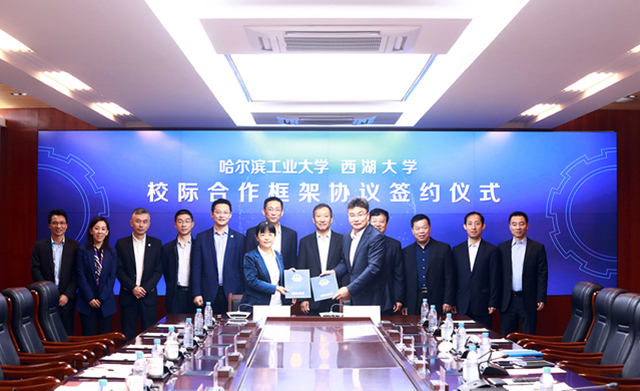 Signing ceremony