Written by: Yu Quanxin
Translated by: Wang Yumeng
Edited by: William Mosteller
Date: 5-15
Harbin Institute of Technology News (Yu Quanxin/Text, Liu Zhongkui/Photograph) On May 7th, Professor Terence G. Langdon, Academician of the Royal Academy of Engineering and the European Academy of Sciences, Foreign Academician of the Russian Academy of Sciences, and Professor of Material Science, School of Mechanical Engineering, University of Southampton (UK), was appointed as Honorary Professor of Harbin Institute of Technology (HIT) and Overseas Academic Masters in Innovation and Intelligence Introduction Base of Space Environment and Material Action. The award ceremony was held in Conference Room 101 of the Administrative Building. Vice President Guo Bin issued a letter of appointment.
Guo Bin hoped that Professor Terence G. Langdon would give full play to international academic influence, further deepen the cooperation between University of Southampton and Harbin Institute of Technology in academic guidance, joint research, lecture and other aspects. The cooperation can contribute to the scientific research, discipline construction and personnel training of universities. In addition, Professor Terence G. Langdon highly praised the achievements of HIT in recent years. He said that he was honored to be an honorary professor of HIT. He would play positive role in the future to contribute to the development and construction of HIT.
Professor Terence G. Langdon is an outstanding scientist in the field of international materials science and engineering. He is a member of many academic organizations, such as the International Ceramic Society, American Society for Metals (ASM) International, the American Minerals, Metals & Materials Society, and the Society for Materials Research. He has won more than 30 international academic honors and awards, including the Albert Sauveur Achievement Award of the American Society for Metals (ASM) International, the Blaise Pascal Award of European Academy of Sciences, the Li Xun Award of the Chinese Academy of Sciences, and the Gold Award of the Journal of Materials.
The responsible persons of the Materials College, the Construction Headquarters of University Science and Engineering and the International Cooperation Department attended the award ceremony.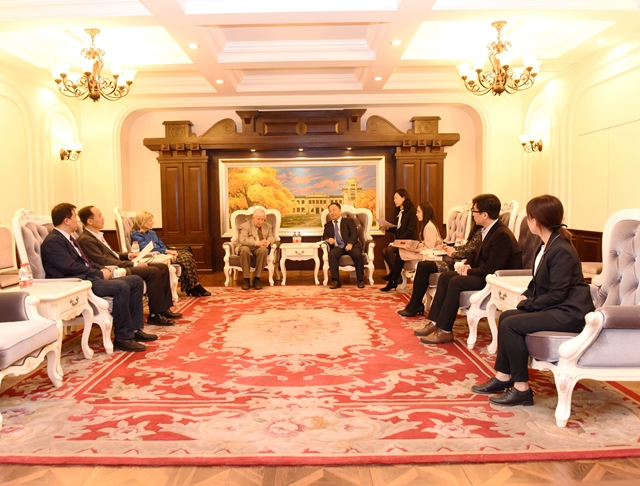 Pose for a group photo