Written by: Liu Zhongkui
Translated by: Huang Shihui
Edited by: William Mosteller
Date: 2019-7-17
On July 16, Jack Ma, Chairman of the Board of Directors of the Alibaba Group, came to HIT to investigate with his entourage. Wang Yongkang, member of the Standing Committee of the Heilongjiang Provincial Party Committee and vice governor of Heilongjiang Province; Xing Zhiguang, deputy secretary-general of the Heilongjiang Provincial Government; Zhou Yu, HIT president; Han Jiecai, HIT executive vice president; Cao Xibin, HIT vice president; Fu Qiang, president of the Heilongjiang Industrial Research Institute and the Heilongjiang Academy of Science and Technology, and others accompanied the investigation.
At the School of Computer Science and Technology, Wang Yadong, dean of the School of Computer Science and Technology, Liu Jie, dean of the Institute of Artificial Intelligence, Zhang Hongli, deputy dean of the School of Computer Science and Technology, and Professor Yao Hongxun respectively introduced a series of landmark research achievements, such as genome engineering, artificial intelligence, group behavior intention analysis, and network security. They also expounded on the situation of team building, major subject directions, and personnel training concepts, etc.
At the Satellite Technology Research Institute, Cao Xibin introduced the overall scientific research situation of the Satellite Technology Research Institute from four aspects. First, the earliest small satellite research was carried out in China, creating a precedent for Chinese universities to independently develop small satellites. Secondly, the integration and innovation of industry, universities, and research institutes has achieved remarkable results in the transformation of scientific research achievements. Third, China has achieved disruptive technological innovation, rising from the middle to the top rank. Fourth, in the future, China will create innovative workshops for students, achieving fruitful results from scientific research and practical education.
Jack Ma further understood the outstanding achievements made by the research team in tackling key scientific problems, transforming achievements, cultivating talents, serving national defense and the main battlefield of the national economy, and its important contributions to China's space industry. He inquired about the construction of the Alibaba Cloud Data Academy of Harbin Institute of Technology, which is co-founded by our university and Alibaba Cloud and is characterized by "government + famous school + famous enterprise", and said he hoped to further strengthen cooperation and exchange with our university and carry out practical cooperation in relevant disciplines.
Relevant persons in charge of the Alibaba Group and relevant units of our university participated in the investigation.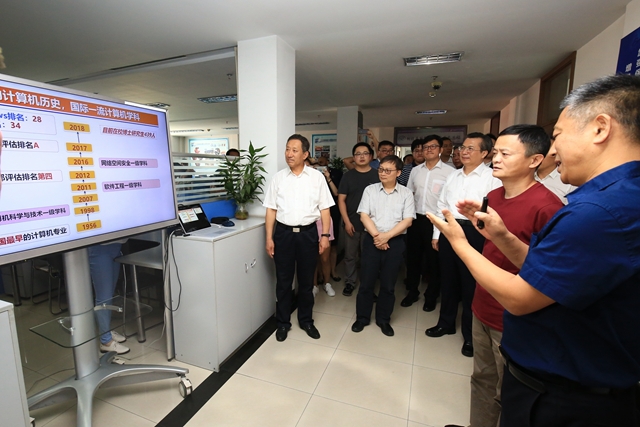 Visit and Investigation