Written by: Liang Yingshuang
Translated by: YANG Yue
Edited by: William Mosteller
Date: 10-23
Harbin Institute of Technology News (Liang Yingshuang/Text Xinran/Photos) At 18:00 on October 14th, the Heilongjiang National Day float "China Granary" was displayed in the Harbin Flood Relief Memorial Tower Square. At the opening ceremony of the display, 27 institutes were commended for their outstanding contributions to the design, production, and demonstration of the Heilongjiang float. HIT won the National Day 70th anniversary Heilongjiang Float "China Granary" Design and Production Contribution Award.
At night, the "China Granary" Heilongjiang National Day float was lit up by the Songhua riverside. During the activity, the teachers and students of the HIT College of Machinery and Electricity took their seats in the audience, sporting small national flags on their faces and clothes and holding up signs printed with the words "Remember your original heart and mission", "Revive majesty and set out again", and "The good scenery in the northeast is in Heilongjiang" to celebrate the return of the float. At the opening ceremony, the original float crew members also performed songs and dances for the audience, bringing the atmosphere to a climax.
From the first half of this year when they received the task, the HIT College of Machinery and Electricity undertook a lot of work in bearing responsibility for the overall design and production of the float, with support from the Aerospace College and the Electrical College. The float design consists of six modules: artistic modeling, modular body, automobile chassis, upper exhibits, monitoring system, and electrical system, each of which could not be sloppy. Overall design, chassis modification, element structure design, electrical control system design, along with the vehicle technical support … From the design and manufacturing of the float to the smooth performance of each link, HIT faculty and staff did their best.
The "China Granary" float is mainly composed of five elements: from the front to the rear of the car, the gold granary, ice and snow modeling, Harbin Institute of Technology small satellite, Daqing oil field pumping units, wetland reeds and red-crowned cranes, with additional decoration of rice sculptures and a curtain of fire below. The float fully shows and corresponds to the implication of a strong industrial province, a strong agricultural province, a strong science and education province, a strong cultural province, a strong ecological province, and a strong tourism province. After the float was revealed on October 1, it was exhibited at the Beijing Olympic Park from October 2 to 7. The float attracted 1,503,338 visitors, making it one of the most photographed star floats in the Beijing Olympic Park during the static exhibition period and winning wide acclaim.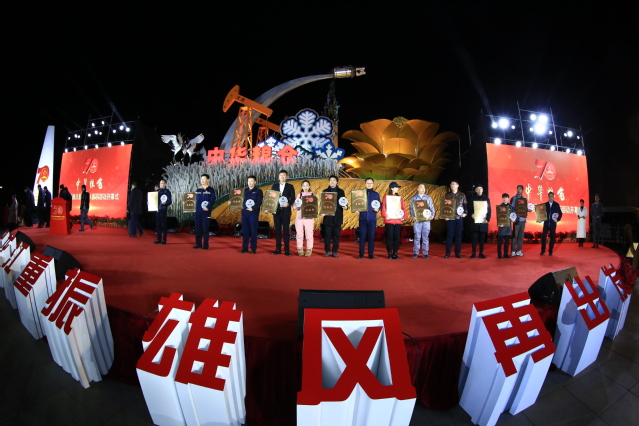 The Award Ceremony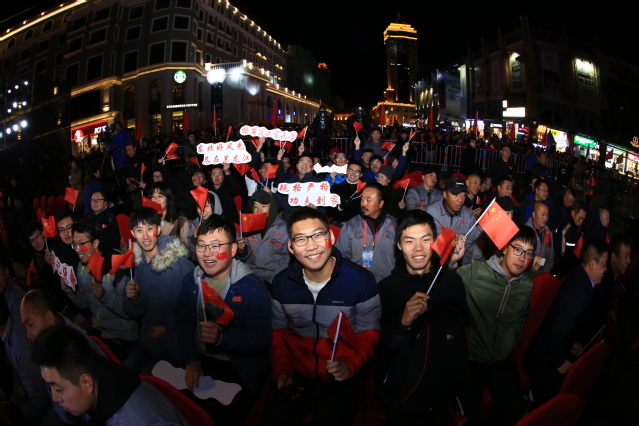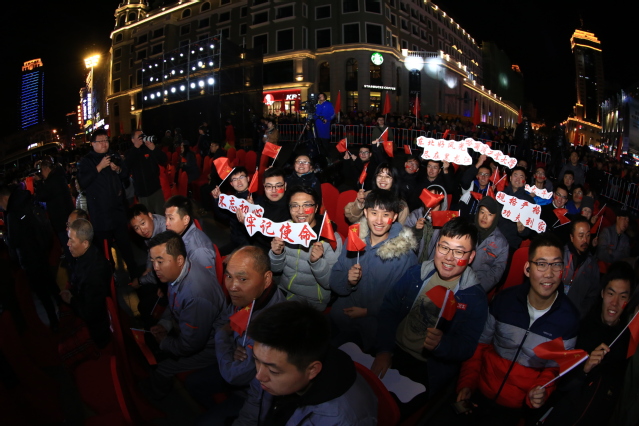 The teachers and students of the College of Machinery and Electricity of HIT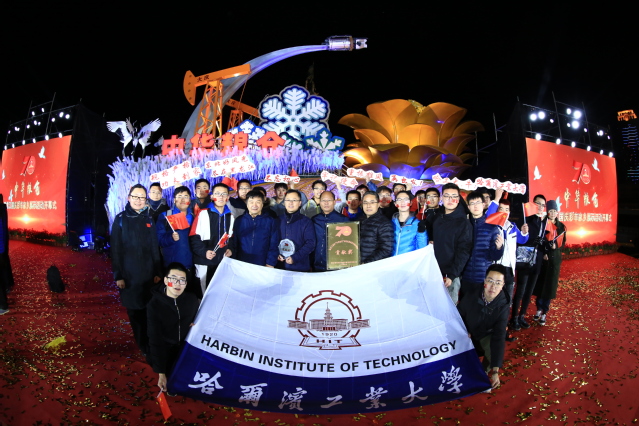 The opening ceremony