Summer Programs
About School of Materials Science and Engineering 
The School of Materials Science and Engineering provides advanced quality of teaching and research resources: 
Top class programs:  The School of Materials Science and Engineering consists of Department of Materials Science, Department of Materials Engineering, Department of Welding Technology and Engineering, Department of Materials Physics and Chemistry and Department of Electro-Optics and Photonics. These departments provide six undergraduate programs: Materials Science and Engineering, Materials Forming and Control Engineering, Welding Technology and Engineering, Materials Physics, Electronic Packaging Technology, and Photoelectric Information Science and Engineering. The school also offers five postgraduate programs: Materials Science, Materials Processing Engineering, Materials Physics and Chemistry, Optoelectronic Information Science and Engineering, Aerospace Materials and Processing. . The discipline of Materials Science and Engineering is listed as one of the "National key disciplines of Double First-Class university project". At present, the Materials Science and Engineering discipline has entered the top 1‰ of ESI ranking. Materials Processing Engineering, and Material Physics and Chemistry are two national second-class programs. 
Research resources: The School has four key laboratories: State Key Laboratory of Advanced Welding and Joining, National Key Laboratory for Hot Precision Processing of Metals, National Key Laboratory of Space Environmental Materials Behavior and Evaluation Technology, Key Laboratory of Advanced Structure-Function Integrated Materials and Green Manufacturing Technology (Ministry of Industry and Information Technology). The school also offer positions for postdoctoral researchers. 
Teaching  resources: The School  has two testing centers:  State-level experimental teaching demonstration center of Materials Science and Engineering, and Analysis and testing center. 
About the Summer School 
The 'Materials and Social Development' international summer school of Harbin Institute of Technology is the first international summer school that is open to global undergraduates. The summer school is  designed  for multiple purposes. First, it creates  a platform for all undergraduate students in related areas to have the opportunity to  learn  cutting-edge materials science technology and their applications. Second, it attempts to turn the specialty of HIT on integrating aerospace science and electronic information science into the structural and functional applications. Finally,  it endeavors to raise the social awareness of the recent materials science development and exert international influence. The institution will invite more than 15 international students to explore developments of materials that promote social progress.  In addition to the intensive courses, the international  summer school will provide   the invited students with other plentiful activities. 
About Faculty Members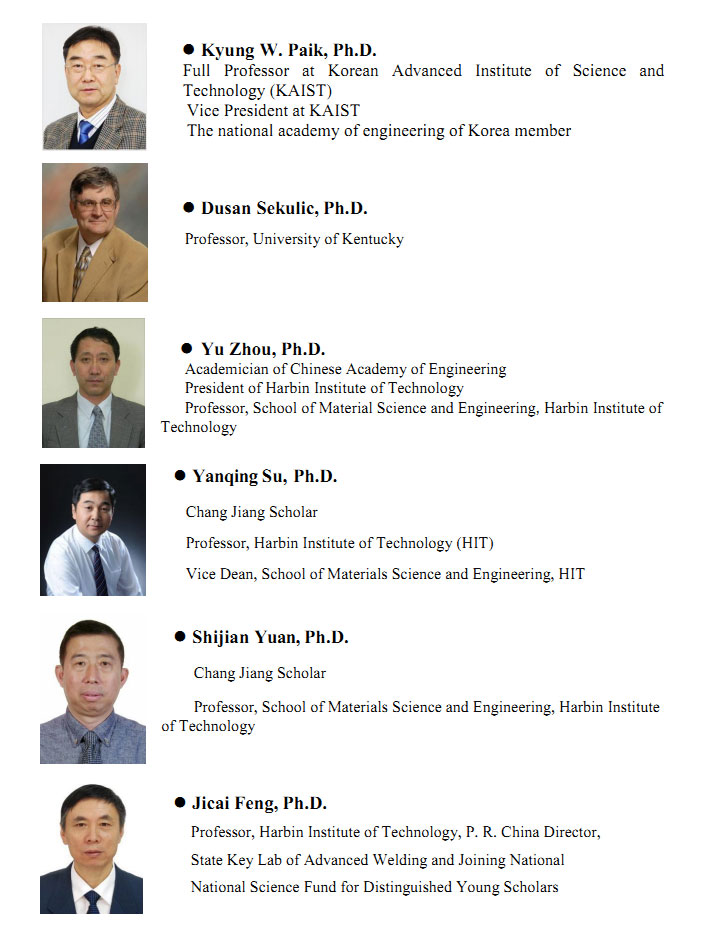 Overview of the Program 
The International Summer School will be held from July 7 to 27, 2019. It plans to enroll about 15 overseas undergraduate  students majoring  in Material science and Engineering or other related disciplines. 
About Activities 
Summer Course 
Course 1: Introduction to Advanced Electronic Packaging (16 Hours, 1 Credit)  
Course 2: Materials and Energy for Sustainable Societal Progress (16 Hours, 1 Credit) 
Innovative Experimental Course(Courses A or Courses B) 
Lab Courses A: Creative Experiments of Chitosan Biomaterials Chitosan is a magic biomaterial derived from shrimp or crab shell, and served as hemostatic dressing for saving life, nerve conduit for nerve regeneration and fluorescent carbon dots for in vivo lighting the biomaterials. In the course, a series of creative experiment about chitosan biomaterial were carried out to explore the magic chitosan for healthcare. 
Lab Courses B: Creative experiments of design and fabrication of components by 3D printing 3D printing was representative technique of new industry revolution, which changed the production mode and business mode. In this course, three dimensional model of component was designed. Using fused deposition modeling (FDM), experiment of component printing was conducted. 
Enterprise internship 
The teachers led their students to visit the Harbin Xinda production base of the Xinda Group, a new material enterprise in Longjiang. The staffs from the production base show students the production process of new materials, the highly intelligent production equipment and the function of their products. From this visit, the students got a better understanding of the development of the new material industry and intelligent factories. 
Lectures 
A series of lectures involving the cutting edge research results in Materials Science will be held to make students have a better understanding of the development of this area.