Harbin Institute of Technology News (Zhang Quan/edit Xin Ran/photo)- On the morning of April 6, the signing ceremony of the Letter of Intent for Strategic Cooperation between Harbin Institute of Technology (HIT) and Hong Kong Sunwah Group was held in Conference Room 626, the Administration Building, HIT. President of HIT Zhou Yu attended the ceremony and delivered a speech. Executive Vice President Han Jiecai signed the Letter of Intent with Chairman of Sunwah Group Cai Guanshen, who is also Member of the Standing Committee of the National Committee of the CPPCC. Vice President of HIT Liu Hong presided over the signing ceremony.
President Zhou, on behalf of HIT, welcomed the delegation of Hong Kong Sunwah Group to discuss cooperation with the university. He introduced the latest achievements of HIT and its exchanges and cooperations with educational circles and enterprises in Hong Kong. He lauded Sunwah Group and Chairman Cai for their persistent support in science, education, culture and public welfare undertakings in mainland China, Hong Kong and Macao, saying that they have done a lot of pioneering work and donated funds to set up many educational institutions of science and technology, cultural facilities and charitable funds. The signing of the Letter with Sunwah Group will strongly boost the forging of more "Pillars of a Great Power" by HIT in the New Centennial Era and the cultivation of more outstanding talents, and better promote the deep integration of Sunwah Group's advantages in industrial development and HIT's advantages in scientific talents.
Chairman Cai said that HIT, as a prestigious university in China, has always been dedicated to serving the needs of the country. It has not only made a series of scientific and technological innovations, but also formed a mode and system for cultivating outstanding talents for scientific and technological innovation. Sunwah Group and HIT will jointly carry out scientific and financial projects which showcase deep integration of academic and industrial circles, and provide resources and platform support for outstanding talents, thus jointly making new and greater contributions to China's regional economic and industrial development.
According to the Letter of Intent, the two sides, by relying on Sunwah Group's industrial advantages and international businesses and by giving full play to HIT's advantages in disciplines, science and technology, and talents, will better implement the strategy of rejuvenating China through science and education and the strategy of innovation-driven development formulated by the state. By doing so, they will jointly promote the transformation and industrialization of high-tech achievements, actively incubate innovative high-tech enterprises, and cultivate innovative and entrepreneurial talents with international visions, gradually achieving an all-round, in-depth strategic cooperation and a mutually-beneficial, win-win situation.
During their stay at HIT, the Sunwah Group delegation also visited HIT Museum and HIT Space Museum.
Heads of the United Front Work Department of the HIT Party Committee, Office of Hong Kong, Macao and Taiwan, Institute of Science and Industrial Technology, Foundation of Education Development of HIT and other departments of the university attended the signing ceremony.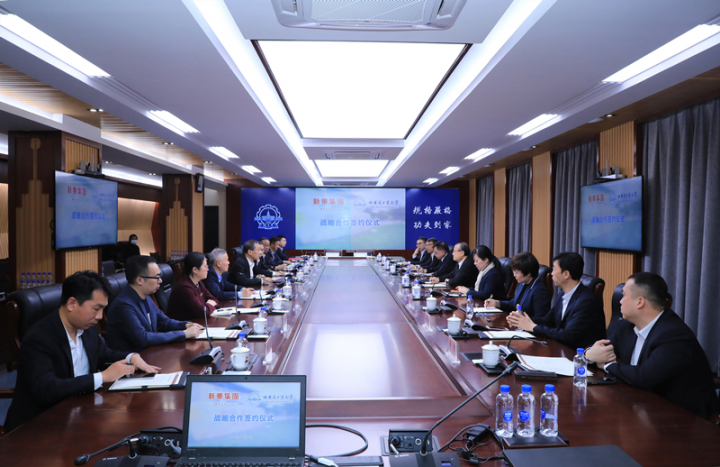 Ceremony site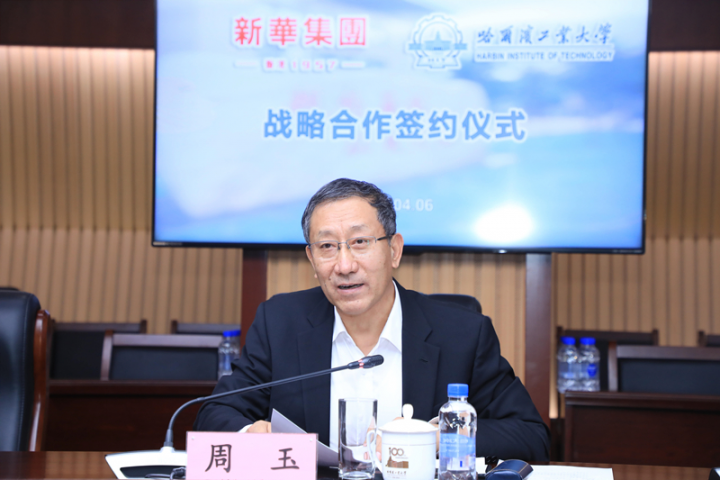 Speech by Zhou Yu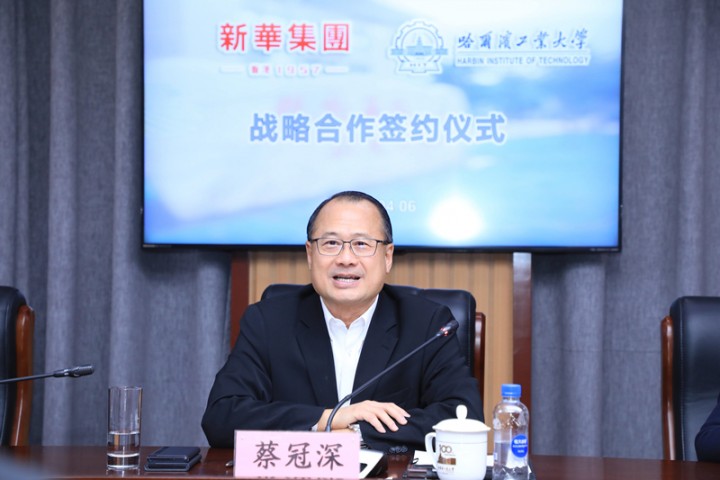 Speech by Cai Guanshen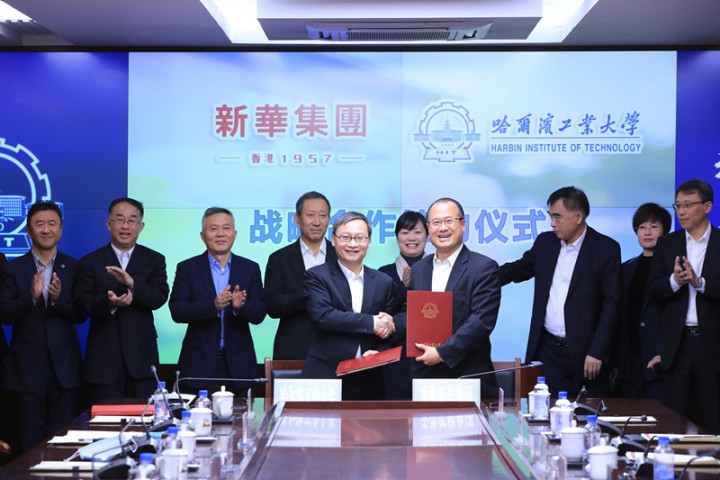 Signing the contract