Harbin Institute of Technology All Media (Ji Xuan/Text) On May 20th, the 8th Baidu Scholarship Awards Ceremony was held in Beijing, and 10 top AI students from home and abroad won awards. Qin Libo, a third-year doctoral student in the Social Computing and Information Retrieval Research Center of the Computing Department of HIT, is on the list. Earlier, he had just been selected into the world's first AI Top 100 Chinese Nova List this year.

Baidu Scholarship is not only a high recognition of my research work, but also strengthens my scientific research determination." Qin Libo said. As a doctoral student under the guidance of Professor Che Wanxiang, Qin Libo's main research direction is task-based dialogue system, paying special attention to solving the problem of data scarcity in task-based dialogue system, and has achieved a series of research results. As the first author or co-first author, he has published 14 papers in top conferences/journals of natural language processing and artificial intelligence such as ACL (International Association for Computational Linguistics), EMNLP (Conference on Empirical Methods of Natural Language Processing), AAAI (American Association for Artificial Intelligence), IJCAI (International Joint Conference on Artificial Intelligence), etc. He has participated in open source projects and accumulated more than 15,000 stars on GitHub.
Qin Libo actively participated in open source sharing and community building, and founded the "Machine Learning Algorithm and Natural Language Processing Community" with more than 500,000 subscribers and more than 20 million readers. He advocated the establishment of ACL, EMNLP, AAAI, IJCAI and other international top exchange communities, which were well received by domestic counterparts. At the same time, he also served as a student member of the Youth Work Committee of the Chinese Information Society, co-chairman of the 2021 Student Seminar of CCL (China Computational Linguistics Conference), and one of the leaders of the China Computer Federation Natural Language Processing Professional Committee (CCF-NLP) entering the strategic cooperation media of universities, He has won provincial outstanding graduates, 3-year national scholarship, Zhijiang Laboratory International Young Talent Scholarship, ByteDance Scholarship (10 in China), and the first prize of Chunhui Innovation Achievement Award of Harbin Institute of Technology.
It is understood that the "Baidu Scholarship" program was officially launched by Baidu Company in May 2013, Facing the outstanding Chinese students in the computer field all over the world, The aim is to provide the industry's most generous financial support and provide data, platforms and expert guidance for its academic research, so as to help potential talents realize their technological dreams. The technical fields involved are mainly natural language processing, in-depth learning, machine learning, intelligent information processing, human-computer interaction, automatic driving, data mining, etc. Previously, Tang Duyu, Liu Yijia and Guilin from the Social Computing and Information Retrieval Research Center of our school had won Baidu Scholarship.
The 8th Baidu Scholarship attracted more than 100 applicants from well-known universities at home and abroad. In the end, Qin Libo and nine other doctoral students from top universities around the world, such as Tsinghua University, Shanghai Jiaotong University, Stanford University, Massachusetts Institute of Technology and Carnegie Mellon University, won awards and won scholarships of RMB 200,000 respectively. Baidu Chief Technology Officer Wang Haifeng presented awards to the winners.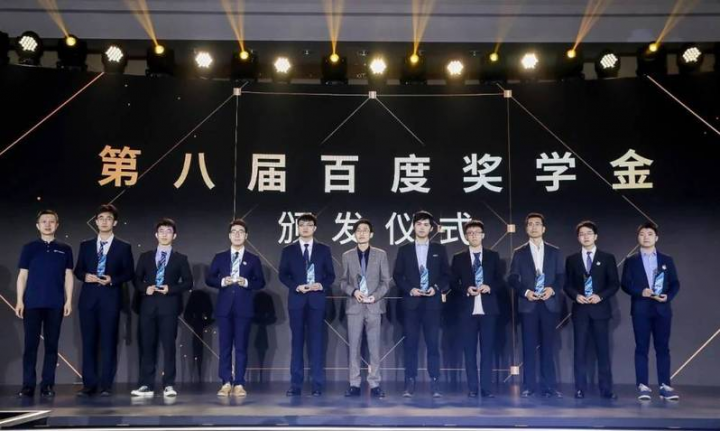 Yan Libo (fifth from left) received the award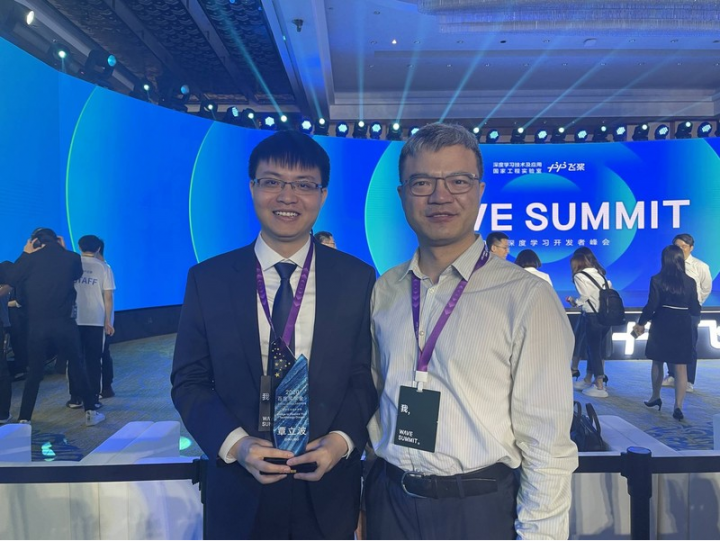 Qin Libo and His Tutor Professor Che Wanxiang