On June 1, the Consul General of the Russian Federation in Harbin, Osepkov and his delegation paid a visit to the HIT Museum and Vice President, Guo Bin met with them at the museum.
Guo Bin extended a warm welcome to Osepkov and his delegation expressing his sincere thanks for Osepkov's great attention and support has always given to the university and the development of cooperation between the two sides. He pointed out that the friendship between HIT and Russia has a long history, as early as in the 1920s when HIT was first established, there were many high-level Russian experts coming to the university to teach and carry out scientific research cooperation. Since the founding of the People's Republic of China, Harbin Institute of Technology has been adhering to the school motto of "Strict criteria, Solid Skills" and has made great achievements that have attract the attention of the world. At present, HIT is promoting cooperation with high-level Russian universities based on the international cooperation concept of "First with Russia, then with the world ".
Osepkov spoke highly of the fruitful achievements made by HIT in the fields of talent training, scientific research and cooperation and exchanges with Russia. He pointed out that the Association of Sino-Russian Technical Universities, Sino-Russian Joint Campus and HIT Bauman Engineering School, which were established under the leadership of Harbin Institute of Technology, have set a model for cooperation between China and Russia in the field of higher education. He hoped that universities of the two sides will continue to deepen cooperation in key disciplines, promote mutual learning between elite scholars and young students of the two countries, and boost scientific, technological and economic development of the two countries.
The two sides reached preliminary consensus on promoting energy cooperation between HIT and Peoples' Friendship University of Russia.
Before the meeting, Osepkov and his delegation visited the HIT Museum.
Relevant officials from the International Cooperation Department attended the meeting.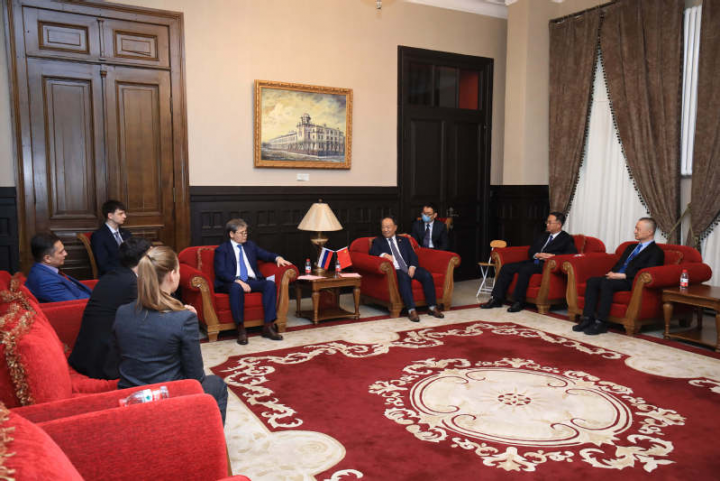 A photo of the meeting