School of International Studies
The School of International Studies (formerly known as School of Foreign Languages) at Harbin Institute of Technology has about 150 faculty members, about 400 undergraduate students and 80 postgraduate students and also provides foreign language courses for about 15000 non-English major students at both undergraduate and postgraduate levels each year. The School is now comprised of 7 departments—the English Department, the Russian Department, the Japanese Department, the First Department of English for Non-English Major Undergraduates, the Second Department of English for Non-English Major Undergraduates, the Third Department of English for Non-English Major Undergraduates and the Department of English for Non-English Major Postgraduates—and 6 research centers: Research Center for Intercultural Communication, Institute for Canadian Studies, Research Center for Russian Language and Culture, English Education and Research Center, Center for Translation Studies and Australian Studies Center. The school offers 3 BA programs: BA in English and English Literature, BA in Russian and BA in Japanese. At the postgraduate level, the school has 4 master's programs: MA in Foreign Linguistics and Applied Linguistics, MA in English Language and Literature, MA in Russian Language and Literature, and Master of Translation and Interpretation. We will also start offering minor degrees in international relations, area studies and international organizations.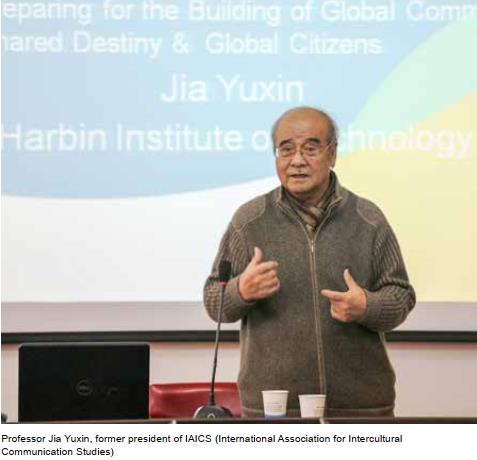 In addition to a focus on foreign language learning, the teaching and research staff of SIS also engage in researches in a wide array of areas—linguistic studies (theoretical linguistics, sociolinguistics, psycholinguistics, pragmatics, cross-cultural communication, etc.), applied linguistics (TESOL, SLA, etc.), intercultural communication, literary theory, British literature, American literature, Canadian literature, Australian literature, theories and methodology for translation and interpretation, international studies, areas studies, international relations, etc. Among these research fields, the research at SIS in intercultural communication takes a leading position in Mainland China, exerting a great impact in Hong Kong, Taiwan and abroad.
SIS has developed partnerships with universities in many countries such as Britain, America, Canada, Australia, New Zealand, Netherlands, Germany, Russia, South Korea and Japan. The cooperative relationships take different forms which include the exchange of students and staff, joint-degree programs and collaborative research initiatives, etc. Some have brought to fruition valuable and beneficial opportunities to our partners and us. For example, our exchange of scholars with the School of Education at Durham University helped us become a major participant of an ERSMUS+ project in 2017. An exchange program created between SIS and the School of Modern Languages at the University of Warwick enable us to receive Warwick students who work as TAs at HIT and to send our students to Warwick. We are also collaborating with the Graduate School of Humanities and Social Sciences of the University of Melbourne on a joint-degree program which grants the degree of Master of translation to our students.
It is our long-standing hope that we can expand our scope of international partnerships and collaborate with more universities abroad in offering enriching educational experience to students and promoting studies in a wide range of subjects. We also look forward to welcoming in our institutions international students who seek opportunities for undergraduate and postgraduate education that will help them achieve major advances in their academic and professional careers. If you are interested in becoming part of our enterprise to become an institution with even greater impact, we will be more than glad to be contacted and please send your email to qiulihua@hit.edu.cn.