HIT News — Since the whole university started the online teaching on February 24, teachers and students of HIT have met in the "cloud" every day for learning. Teachers and students used their laptops, tablet computers, and mobile phones for lectures, and switched freely among the live broadcast, MOOC class, reversed classroom and WeChat interaction. The worries and anxieties of teachers and students before the start of the class are gradually replaced by the sense of freshness brought by the ability to skillfully control various platforms and online interaction.

More than a week after the opening of online courses, the reporter turned into a "good student" and observed in various courses and lectures offered by schools in the three campuses to experience the teaching and learning on the internet.
When experiencing the novelty and surprise of "cloud" teaching, the reporter noticed that due to the differences in the nature of various courses, the scope of teaching, the number of students, etc., teachers' ideas and specific ways of preparing for online teaching are also different. Especially for the public basic courses, mathematics and natural science basic courses, with the widest teaching range and the largest number of students, the teachers tried their best to prepare for lectures.
"College Physics" is a veritable public course, which covers nearly 4000 undergraduates in all majors of HIT on average. Can such a public course be opened online? How to do it?
As early as the end of January, the School of Physics organized the backbone teachers of the "College Physics" teaching to hold many video conferences one after another, and discussed the feasibility of carrying out online teaching for the basic courses of the whole university through the "virtual teaching and research section". Combined with the characteristics of multiple audiences and diverse curriculum levels, teachers actively discussed the teaching content of online teaching. In addition, they repeatedly conducted live video teaching tests, evaluated the teaching effect, and constantly improved teaching plans.
When the virus outbroke, Professor Shi Hongyan happened to spend the Spring Festival with her family in Guangxi Province. Because of the traffic problems during the virus outbreak, she was unable to return to campus. There is not only no teaching materials at hand, but also no broadband at home. In the nearly three weeks of preparing for the live class test and video discussion, all of these are supported by the data traffic of all the family's four mobile phones. She started to prepare e-lesson teaching plans from scratch. Although she experienced a short period of panic, she still prepared three plans for the first week of teaching with her excellent teaching ability and recorded several classroom videos and audios in advance. "Every time after class, the students' words of 'thank you teacher for your hard work' moved me for a long time and increased my confidence."
In order to ensure that online learning is of same quality and effect with offline classroom teaching, Associate Professor Li Jun conducted a lot of research on the Internet, and also purchased a batch of live equipment to experience one by one. Finally, he chose high-speed photographic apparatus as an auxiliary tool, which can display the text written by the teacher under the text box directly on the computer, just like a blackboard in front of the students. This can well replace the blackboard teaching in the classroom, and complete a large part of physical teaching process.
The public courses offered bythe School of Mathematics in this semester include Calculus Series, Calculation Method, Mathematical Equation, University Mathematics Foundation, Liberal Arts Mathematics, etc., among which Calculus Series has been taught through the network in the first week according to the original teaching plan, with 23 classes.
Before network teaching, the School of Mathematics organized teachers to actively make emergency teaching plans for stuck network and platform, and to combine multiple platforms and record audio and video in advance. You Chao, associate professor of calculus-teaching team, took students' feelings as priority, experimented with various platforms in person, and finally chose Dingding (a live platform) group live teaching which can automatically record and replay the video. You Chao said,"We chose this platform mainly because it can have both A (this class) and B (outside class) windows at the same time, which is convenient for the whole school students to watch the live broadcast freely."
At the same time, teachers actively innovated the teaching mode, reorganized the original MOOC resources, established SPOC based on our university, and uploaded live class replay videos, electronic textbooks, teaching plans, PPT and other materials to SPOC to form a new online learning library. Meanwhile, they transferred the original paper-based homework to SPOC to form e-homework, and tested the learning effect through students' mutual evaluation.Whenever and wherever possible, teachers will record their questions and videos to SPOC for students to learn. In order to enable more students to share the resources of live broadcast teaching and to learn anywhere and anytime, some teachers have also opened Bilibili account and WeChat official accounts, which will integrates all lecture resources such as lecture notes, notes and video links to students who subscribe to teachers' accounts.
Liu Dong from the School of Marxism is a young teacher. There are 6 teachers in her postgraduate ideological and political teaching and research office, who undertake the course of Introduction to Dialectics of Nature for 24 large classes and more than 3900 master students. Liu Dong is in charge of the first lecture of this semester. At the same time, she faced the challenge of online teaching. Her pressure is self-evident.
When Liu Dong repeatedly prepared the teaching materials and busily tested various platforms and software at the same time, several other teachers in the teaching and research office got in touch with her. Some teachers patiently and carefully assisted her through mobile phones with hundreds of WeChataudio messagesand dozens of pages of reference materials. Some teachers talked on the phone for hours to improvethe combination of cases and outline contents, and helped Liu Dong to find how to tell the story of "Dialectics of Nature in Harbin University of Technology". Other teachers sent new cases and initiatively helped her improve PPT.
In fact, "collective lesson preparation" has long been a fine tradition of ideological and political theory teaching in HIT. It has become a teaching system that teachers are very familiar with and adhere to for many years. In front of the challenge of online teaching, several teachers in the ideological and political teaching and research section of postgraduates moved the location of collective preparation from the teaching and research section to the internet
"Miss Liu, who is gentle and beautiful, teachs so well that she stabs me in the heart."
"The first class experience is very good. We are eliminating the "epidemic laziness" and restoring the habit of two hours of class attendance."
In the afternoon of March 2, Liu Dong successfully completed his first class. She was very pleased with the feedback from the students in the WeChat group. She shared this unique sense of achievement as a teacher with the teachers in the teaching and research office at the first time after class.
As another major School offering public basic courses, theSchool of International Studyundertakes the teaching task of 348 basic courses of Public English. Among them, there are 319 College English courses for undergraduates involving 34 types of courses and 29 graduate English courses for postgraduates involving 4 types of courses.
In order to prepare for the full implementation of online teaching, the School of International Study quickly took actions, including strengthening the overall planning, actively organizing teachers to participate in the training of the school and the university, formulating the implementation plan of online teaching and online teaching emergency plan, etc. Besides, the School of International Study organized the technical personnel of the audio room to compileCommon Problems and Solutionsof many online teaching platforms for teachers to consult, and organized young CPC members to help teachers with difficulties in online teaching, especially aged teachers, to conduct "one-to-one" training exercises on platforms and software.
Professor Zhou Zhinan, a famous teacher in Heilongjiang Province, has rich experience in lecturing national excellent online open courses and conducting mixed teaching reform research. In the face of the new challenges of online teaching, for more than a month, she has not hesitated to give up the online teaching plans that she spent a lot of time and effort to establish.
All efforts paid off. After finding her ideal teaching mode and platform, Zhou Zhinan actively helped other teachers to analyze courses, design the best teaching mode, learn the teaching methods and use online platforms together. She has provided online training for nearly 100 teachers of the School, and carefully made English PPT to share with foreign teachers.
Zhang Zhaoxin, as a teacher of the School of Computer Science in Weihai campus, is familiar with online teaching. Because it is the first time to take classes completely through the internet, he made a lot of efforts in advance, from PPT making to the selection of teaching software, and then to the classroom section, all of which were carefully designed. "Before class, we must talk with students about the precautions and teaching process, so that students can understand the whole process of curriculum design in advance, including lectures, discussions, questions and answers, so that students can know how to learn and how to ask questions." For this reason, Zhang Zhaoxin specially wrote out the teaching process design and precautions, and explained them to the students in the PPT on the first day of class.
"1-2 days before each class, I will send the course videos to QQ group and other teaching platforms. Please download them and study in advance."
"At the end of each section of teaching, you will be asked for suggestions. Students with questions can ask questions during this period."
"If you encounter problems in the course, please leave a message in QQ group or other teaching platforms, and the teacher will check it in between classes and give answers."
"The network may be unstable. If you are disconnected, please connect again. It is not recommended to use live video in class."
……
"From the feedback of students after class, the current network teaching methods and software meet the basic requirements of network teaching, with smooth picture and clear sound quality." Zhang Zhaoxin told reporters after class.
Professor You Hong, from the School of Science in Shenzhen Campus, is over 70 years old. He is even not very proficient in WeChat operation in ordinary days. These days, he has been playing with the "new things" such as cameras and earphones. He has carried out 20 simulation tests back and forth. In his opinion, it's not a small challenge for him to move the class from the classroom to the computer, but we must also teach the course Advanced Algebra and Geometry Bwell on the internet.
Advanced Algebra and Geometry B is a basic course of mathematics and natural science. Under the guidance of You Hong, 63 freshmen will master this basic engineering course. In Shenzhen Campus, there are many basic courses. Up to now, 84 basic courses including College Computer, College Physics, Theoretical Mechanics, English Reading and Writing and various ideological and political courses have been prepared in the "cloud", which will bring different experiences to 1783 freshmen and sophomores.
Through more than a week's online interviews and observation, reporter deeply felt that whether collective or individual exploration, whether collective lesson preparation or passing on experience to other teachers, whether skilled control of technology or positive feedback from students, under the double pressure of public courses and online teaching, teachers in three campuses of HIT not only having withstood the test, but also vividly interprets the profound connotation of school motto "Stringent Standard, Sufficient Skills".
Professor Shi Hongyan was giving online lecture
Professor Li Jun's powerful tool of online teaching — high-speed photographic apparatus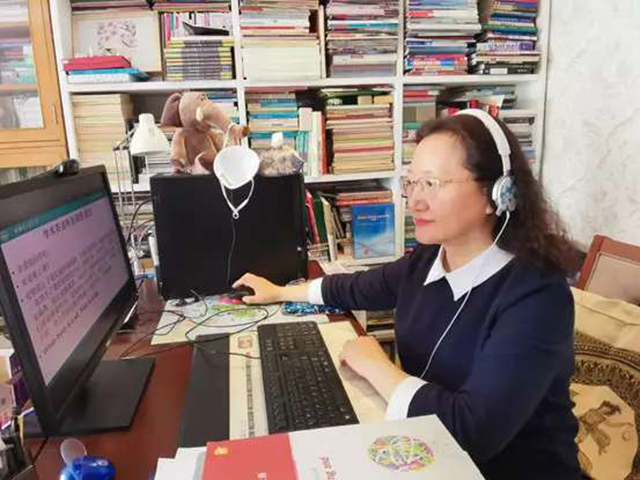 Professor Zhou Zhinan was giving online lecture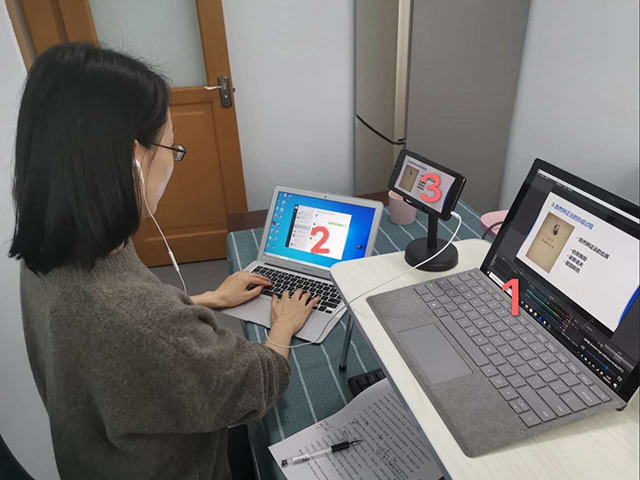 Professor Zhang Zhaoxin was giving online lecture